To me, there are few things worse than an intermittent computer problem…yea I know that's a first world problem, but the occasional listing delay on the Download folder in Windows 7 definitely qualifies as one of those annoyances for me. I've just never had enough time to really analyze the problem and figure out what's going on. Well last week work was slow, so here it is: The problem is that the Downloads folder in Windows 7 is a Picture items folder.
Picture folders in Windows 7 have a special thumbnail cache that gets refreshed every so often…the process involves looking at each file in the folder and quickly generating a thumbnail image on the fly. I guess if you were downloading mostly images from the web, then having your downloads folder be a Picture folder this setup would make sense, but for me it's just an annoyance because I've applied the detail view to my downloads folder so I'd never even see a thumbnail in that view.
Here's a quick demonstration video of the problem and steps on how to fix it:

To eliminate the delay caused by thumbnail generating, simply change the custom properties of the downloads folder. Here's how:
[step 1] Right-click the downloads folder and select Properties.
[step 2] Click the Customize tab and change option under Optimize this folder for from Pictures to General Items in the drop down.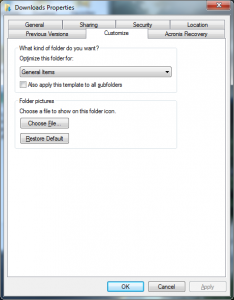 [step 3] Click Apply or OK to save the changes.
That's it.