If Microsoft Office 2013 or Office applications part of your Office 365 installations will no longer launch and both the Quick Repair and Online Repair have failed, a complete re-install may be necessary. Here's how to do this:
[requirements]
Internet connection
Product key for Office 2013 or Office 365
Microsoft Account username and password
[the problem] Office 2013 applications will not launch and uninstall/repair are not working.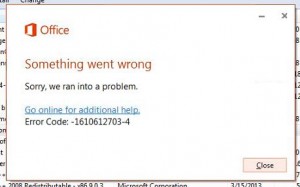 [the solution]
[step 1] Download the Microsoft FixIt tool to remove Microsoft Office 2013 completely. This tool can be useful if the Microsoft Office change or uninstall dialog in the Programs and Features control panel has crashed or will not work as expected.
[download] Microsoft FixIt Office 2013 uninstaller at http://support.microsoft.com/kb/2813143
[step 2] Run the downloaded Microsoft FixIt Office 2013 uninstaller. Reboot if prompted.
[step 3] If you purchased Microsoft Office 2013 retail, find the box and locate the product key card and visit https://officesetup.getmicrosoftkey.com/. You'll be required to register the product key to a new or existing Microsoft Account. If you've done this already, simply log in when prompted. If you haven't done this yet, simply create an account when prompted to log in. NOTE: you'll have to have email access to another email account to complete the Microsoft Account registration process.
When the registration process/login is complete/successful you should be returned to your Microsoft Office account at https://office.microsoft.com/en-us/MyAccount.aspx where you should be able to re-download the Office 2013/Office 365 installer.
If you've purchased Office 365 as a subscription, you should already have a Microsoft Account. Simply log into your Office account at https://office.microsoft.com/en-us/MyAccount.aspx to manage new and existing Office products. Once logged into your Microsoft Account, you will see all the current Office product installations you have active for your subscription or purchase. Here you can de-activate existing installations or install new instances of the software by clicking the Install button.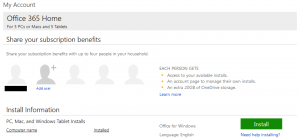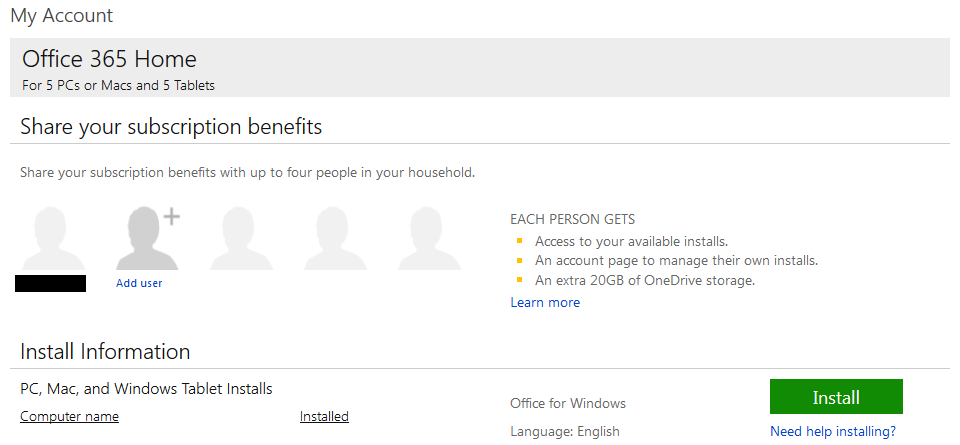 [step 4] Click Install and run the Office 365 or Office 2013 installer which will re-download and install Office applications on your PC, Mac or Tablet.
That's it.