While cleaning up an older Windows XP system got a 403 – Forbidden error after visiting Windows Update in IE7. Of course I checked the proxy settings and the hosts file to see if anything fishy was going on, but alas everything seemed fine except windows update. Even upgrading to IE8 didn't help. Here's how to fix it if it happens to you:
[problem] When visiting http://www.update.microsoft.com a Server Error 403 – Forbidden: Access is denied error is displayed and the system cannot be updated.

[solution]
[step 1] Download and install the latest version of the Windows Update Agent. Make sure to download the proper file for your operating system x86 is for 32bit Windows XP/Vista/7 and x74 is for 64bit Windows versions.
http://support.microsoft.com/kb/946928/en-us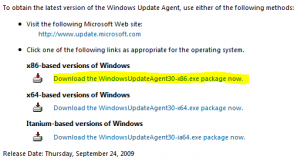 [step 2] Reboot if asked, then visit http://www.update.microsoft.com or click Tools->Windows Update in Internet Explorer.
That's it.