I like the new Outlook.com. In fact, I like it so much that I pretty much stopped using my Gmail account (can't stand all the delays in loading labels and emails). I now use Hotmail with the Outlook.com UI to check my Gmail. It's a little tricky to setup, but it works great. Here's how I did it:
–UPDATE– These steps are no longer needed to migrate a Gmail account to an Outlook.com account. The process takes just a single step now and can be done from within settings in Outlook.com.
[step 1] Log into Outlook.com, Live.com or Hotmail.com account and make sure it's using the Outlook.com UI. It'll look like this: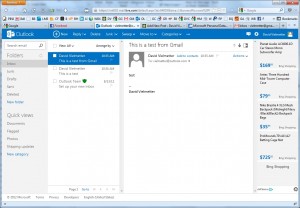 [step 2] Now click the gear wheel (settings), then click More Mail Settings.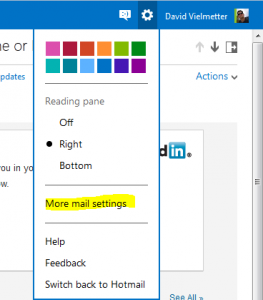 [step 3] Click Sending/receiving email from other accounts.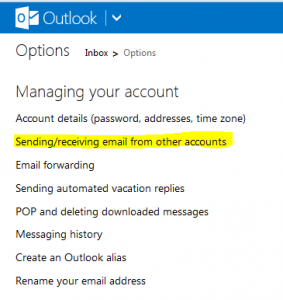 [step 4] Click Add an email account.

[step 5] Fill in your Gmail address and your Gmail account password and click Next.
NOTE: The initial attempt to add a Gmail account will FAIL and you'll get a message saying that the password is likely incorrect.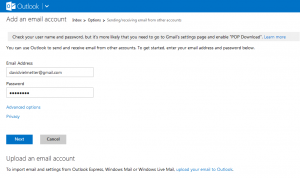 [step 6] In another tab or browser, log into your Gmail account and check for a notification message about suspicious activity. Mine looked like this
[step 7] Open the suspicious activity notification message and click the Yes button indicating that you recognize this activity (from your sign-in attempt at outlook.com). Next click the Yes-Continue button indicating that you understand what you're doing.
NOTE: You will now have 10 minutes to re-try adding the account at Outlook.com

[step 8] repeat [step 5] and this time Outlook.com or Hotmail should be able to add your Gmail account. You'll need to select where messages from that account should go (a new sub folder or the inbox).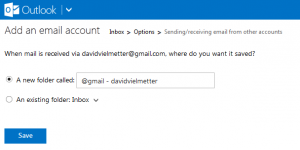 [step 9] Finally you'll want to make sure you can send email from Hotmail as your new Gmail account holder. This way you'll be able to reply to emails from your Gmail account within Hotmail and it'll appear as if they've been sent from your Gmail account. To do this, simply go back to the other account settings screen by following [steps 1-3]. Then click Add another account to send mail from 
Enter your Gmail address and send the verification email.
Then simply log into your Gmail account and click the verification link to complete the process.
There you have it. A guide on how to use Hotmail to check your Gmail.