So apparently Dell's new Latitude E6400 series notebooks come with optional built-in Dell Wireless® 375 Bluetooth (BT) Modules. Unfortunately when the notebook arrives from the factory, the generic Windows BT driver is installed. Although everything looks clean in the device manager, the generic Windows driver is incompatible and you'll notice this when you try to pair a BT device with your computer.
Besides not being able to pair BT devices, you'll find a number of peripheral devices with exclamation marks in the device manager. So how do you fix this? A normal person would head on over to the dell support site, enter your service tag and download the drivers for the Dell Wireless 375 Bluetooth device and install it…right? NOPE! the driver available on Dell's site (download HERE) will not execute properly on the E6410 Core i7. When you execute the single Setup.exe file in Windows 7 x64, you'll notice a dos prompt flash and that's all she wrote. The setup application never starts. Here's how to get the driver for Dell Wireless® 375 Bluetooth module installed properly:
[step 1] Download the driver HERE.
[step 2] Extract the downloaded file R285455.exe to the default location C:DellDriversR285455.
[step 3] Navigate to C:DellDriversR285455 using Explorer and find the Setup.exe file. Right-click setup.exe and choose Troubleshoot Compatibility.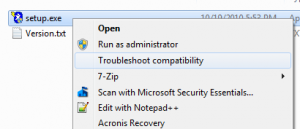 [step 4] Select the Recommended settings in the wizard that pops up then click Start the Program…
[step 5] Now the installation wizard for the Dell Wireless 375 Bluetooth adapter should execute properly and upon completion all drivers will be installed properly and up-to-date.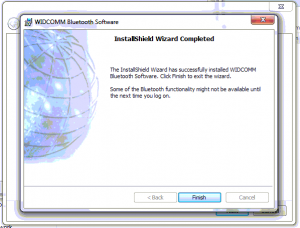 That's it.