The other day a customer asked me how quickly apply some sort of protection to thousands of PDF files so that they could not be changed or printed. Challenge accepted I said. Here's how:
[requirements]
Adobe Acrobat Professional
[procedure]
[step 1] Open Adobe Acrobat Professional. Then click File->Action Wizard->Create New Action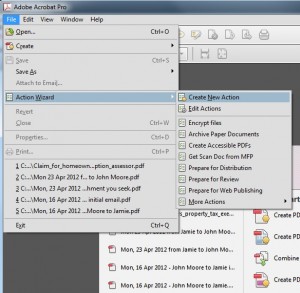 [step 2] Expand the Protection section and click Encrypt.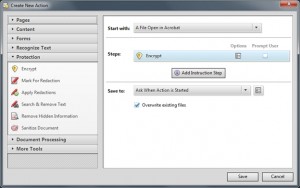 [step 3] Click the Options button on the Encrypt step and select Password from the dialog that appears. NOTE: You may also use a certificate, but this involves more steps I won't cover here.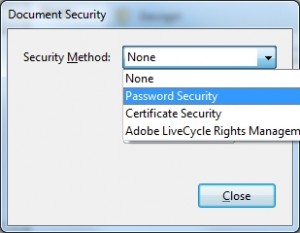 [step 4] Check the Restrict Editing… check box and specify a password (and confirm it). You can restrict both document printing and changes or either feature independently. NOTE: Changing the drop-down to NONE (as shown) indicates that the feature will be restricted…bad UI design. When finished, click OK.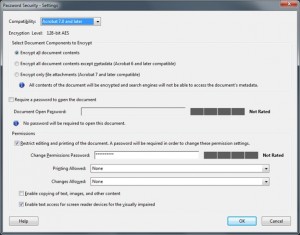 [step 5] Click Close, then click Save and enter "Encrypt Files".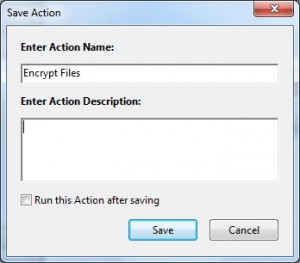 You're now done creating your Batch Action which can be applied to a single file, multiple files or an entire directory (folder) of files.
[step 6] Click File->Action Wizard->Encrypt Files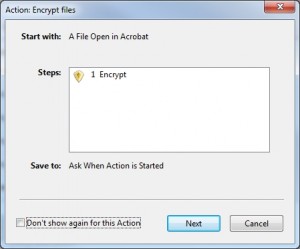 [step 7] Click Next and Add the files you want to encrypt. NOTE: you can Add a single file, multiple files or an entire folder of files. Then click Next.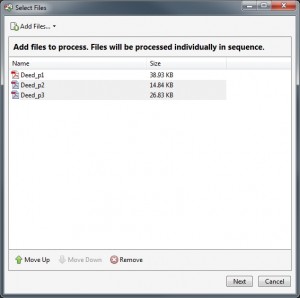 [step 8] Click Next to begin the encrypt batch action on the files you've added. When Acrobat has completed your Action you'll see a message stating that the process is now complete.

That's it.