Office 365 has an undocumented issue with storage quotas on public folders. Office365 subscriptions offer 50GB of mailbox storage for public folders, but if you copy more than 2GB of data into a freshly created public folder within office365, you'll get an error about the folder being full. Here's how to resolve this issue:
[step 1] Log into Office365 as an account administrator.
[step 2] Navigate to Public Folders and edit the public folder in question by highlighting it and clicking the pencil icon.
[step 3] In the edit window that pops up, select limits and specify the following: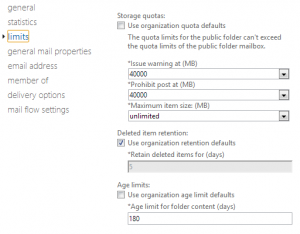 [step 4] Save.