I had some free time this weekend, so I decided to install latest Windows VISTA release candidate along with a trial version of . So far I've been relying on XP and Office 2003 because that's what the majority of my clients use, but lots of people have been talking about upgrading so I figured I'd give it a try. Here's what I thought.
I liked the installer which ran without virtually any user interaction. I just entered the activation key, admin password, time zone and went to lunch. When I got back Vista was installed and pretty much ready to use. I was curious about Vista's boot speed because of the rhetoric I had read on various enthusiast blogs, however I'm sorry to say that my notebook boots Vista without significant leaps in speed.
After initially booting I was required to setup a new user account which to my surprise in Vista is no longer an Administrator account. Once logged in Vista looks very refined. The start menu and desktop have a shiny smoked glass look and feel.
My notebook has the following configuration:
Dell Latitude D600
Pentium M 2 GHz
2 GB of RAM
80 GB Hard Drive
ATI Radeon Mobility 9000
Although this is a relatively dated notebook (almost 2 years old) I'm happy to report that Vista runs relatively fast. Applications launch quickly and opening new explorer windows is pretty responsive even with the snazzy new look. I installed and tested the following set of applications:
Adobe Acrobat Reader
Adobe Photoshop CS
Divx Codec
Google Video Player
IrfanView
Itunes
Microsoft Office 2007 Professional
MozBackup
Mozilla Firefox
Picassa 2
Putty
Quicktime
Superscan
UltraVNC
Vim
Visual Studio 2005
Windows Desktop Search 3.0
Windows Live Messenger
Xampp
Most of these applications installed successfully, but I did run into a few problems. First off, I had backed up my home directory using the Windows Backup tool in Windows XP. But I could not find any application in Windows VISTA to restore .bkf files. The Backup utility in VISTA could not handle the bkf extension and I had to download and install a 3rd party shareware application to extract my files.
The Divx codec installer threw some exceptions during the installation but Divx encoded video seemed to play just fine in media player 11. When I attempted to play some a divx encoded movie over wifi, however I got an out of memory error.

Microsoft Office 2007 runs fast and looks gorgeous on Vista. Just one of the amazing features is the automatic server settings discovery wizard in Outlook. To setup a POP email account, all you now need to enter is your email address and password, Outlook'll do the rest. It even configures the outgoing email server for POP access to Gmail properly.
[nggallery id=25]
Microsoft Word, PowerPoint and Excel all have similar looking menu's with tons of beautiful looking smart art, charts, and other graphics. I can't wait to buy it.
[nggallery id=26]
Upon running Microsoft Outlook 2007 for the first time, I got a message about installing an update to enable instant search. When I downloaded the update it turned out to be Windows Desktop Search 3.0, but the installation failed due to a version error.
I had some further trouble with Outlook when I tried to open an existing .pst archive file from Outlook 2003. No matter how I tried opening the file, I got a permission error. Just for laughs, I compared the file permissions to the active Outlook.pst file and they were the same. Still, I could not mount the .pst archive file.

Windows Live Messenger to my surprise does not come installed on Vista, it must be downloaded. Making matters even stranger, once installed it immediately complains about being out of date.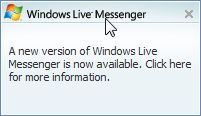 XAMPP (an-all-in one Apache, MySQL, PHP, Perl environment installation package for Windows) had some problems during the installation. Also once installed, neither Apache nor MySQL ran properly. Using the ZIP file standalone XAMPP package worked just fine though.
Besides the applications there are plenty of built in goodies in Windows Vista. I spent the better half of the day just roaming around discovering new features. Some things I really liked, some things were just annoying.
One of the features I really liked was the replace file dialog thrown when trying to copy two files with the same name. Vista halts the copy process to give you 3 options (Copy and Replace, Don't Copy, or Copy Both Files & Rename).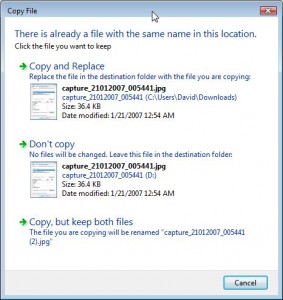 Among the other things I like were Windows Calendar, Windows Mail, Windows Photo Gallery, Windows Defender, and Windows Networking.
[nggallery id=27]
There were, however, plenty of things to dislike during my trial of Vista. First off, there were continual prompts during application installations and setting changes to temporarily elevate the permissions to administrator in order to continue. Even when copying files to another hard drive. In addition copy operations, especially large files, took much longer than anticipated. For instance, extracting a 1.5 GB ZIP file from took over 20 minutes.
All in all, I really liked Vista. Aside from some of the minor annoyances, I think it'll be a hit. I think I'll hold off on upgrading until I can get a suitable web development environment though (something similar to XAMPP), but I'm buying Office 2007 the moment it comes out.