For those of us Microsoft Windows guys who really want to like OS X, Finder is the biggest hurdle standing in the way. I'm
not saying Windows explorer is perfect, but it IS a superior file management interface – period. So when I am using my MacBook I supplement Finder with a great little tool called Default Folder X. Here's a quick review:

If you've spent any extended period of time working on a Windows PC, you'll have gotten accustomed to some time saving
explorer features. One of them I really miss on the Mac is manipulate files within the open/save file dialog. Ever needed to quickly rename a file before you attached it to an email? Or needed to zip it up? Well, you can't on the Mac. The open/save file dialog won't allow anything beyond opening/saving files.
I hate to have to scroll to locate my favorite places/folders. In Finder, getting to your favorite Finder places will take some scrolling (especially if you've got a lot of drives mounted). This can also be a pain in Windows open/save dialog, especially if you've got lots of search folders or favorite locations.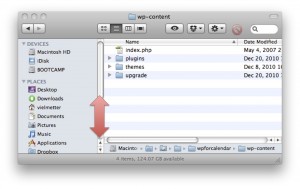 Default Folder X can help with some of the issues I've described above. It integrates with finder when running to offer you a number of additional options in the open/save dialog. Before I continue though, I need to give a shout-out to WayneB who was kind enough to point me to point this little gem out to me in a comment on this post. Thanks Wayne!
With Default Folder X you can rename, move, get info, delete or create a zip of files from within the open/save file dialog.
Additionally you can specify default folders for all of your favorite apps. Say for instance, you always want the default open/save folder for preview to be your Pictures folder, well you can configure it in Default Folder X.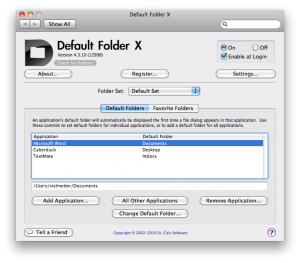 Or say, you want to quickly save a file in a recently used or favorite folder…oh wait, how about a sub-folder of any of these. Easy in Default Folder X.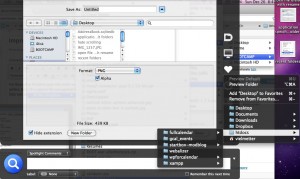 The start menu style file browser I mentioned earlier, Default Folder X has it available from the Menu Bar or from the open/save dialog.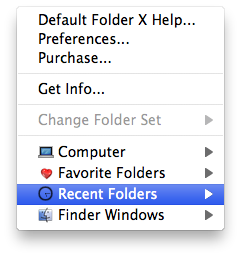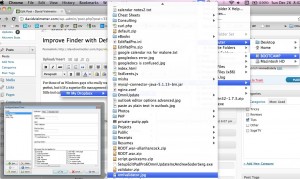 Finally one of the neatest features is preview. Yes, before you open a file you can preview its contents with Default Folder X.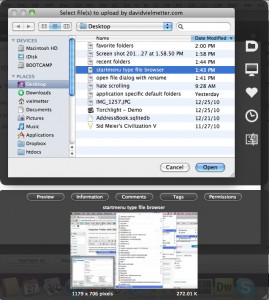 I'm still evaluating Default Folder X, but if I don't find any major bugs I'll be buying it at the end of January.