Around Christmas, Playon.tv had a special where you could get a year of Playon service for $19 bucks. I figured it was worth a shot and signed up. Playon is software that runs on your PC and allows you to stream internet video content to your Xbox, PS3, Wii or mobile device (similar to tversity pro). I installed it on my HTPC last month and have been trying it on the Xbox, iPhone, iPad and MacBook Pro with XBMC.
Setting up the Playon server software up is straight forward. Simply double-click the installer and follow the instructions – boom done. Getting it to work as advertised, however, is slightly more complicated. First there are the requirements:
Ideally you'd want to install Playon on a PC with a powerful multi core processor and lots of ram.
The Playon server should really be running all the time.
The Playon server needs to be connected to a high speed internet connection.
My DVR seemed to be a pretty good fit. It runs Windows XP, has a dual core 2.8GHz processor, 4Gigs of RAM, and is always turned on/connected to the Internet. My Internet connection isn't blazingly fast, but I'm supposed to have download speeds of up to 3mbps. I assumed I was good to go and pressed ahead with the installation.
Once the Playon server software was installed, double-clicking the program shortcut just yielded the server settings. This interface allows you to customize/enable available internet video content channels such as Netflix (account required) in addition to starting/stopping the service and some advanced settings for streaming existing content on your PC etc.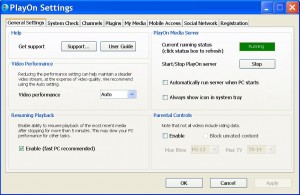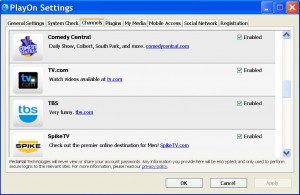 The system check tab lets you run some performance tests on your computer and Internet connection to see whether or not your server setup meets the requirements for Playon to work properly. NOTE: It may be a good idea to download the DEMO and install it on your own computer to verify whether or not your own setup meets the requirements before purchasing a license.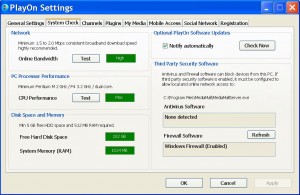 With the Playon server installed and running you're ready to access it using your various network connected devices. According to the instructions, to watch the Comedy Central on a connected Xbox, simply turn it on and navigate to My Xbox->Videos->Computer. There you should see and be able to select the computer that has Playon installed and browse through each available channel to view available content such as the Colbert Report.
In practice, however, I found the process of selecting and watching Playon server shows to be be a slow and somewhat buggy experience. More often than not I found myself staring at 10-30 seconds of loading screen on my Xbox/iPad followed by some sort of playback error.
Navigating back to the available shows list and re-selecting the same show for playback again sometimes fixed the problem, but sometimes yielded a temporary failure in being able to browse any shows at all for a while.
When the system did work as advertised, videos were at times slow and choppy during playback with my 3mbps DSL connection and if you're watching things on a large HD screen you should realize that the video quality will be subpar.
For the iPhone/iPad, there's a free Playon App that lets you browse/watch shows as long as you are connected to the same network as your Playon server. Once installed, the App will show you your local Playon server and you can then navigate through the channels and select the show it has available. While the Apps interface is pretty straight forward, lots of useful features such as search are not available. Also some of the same playback issues I found using the Xbox seemed to plague the iPhone/iPad app (i.e. problems with playback).
[nggallery id=36]
In short, if you were planning to channel surf Internet TV using Playon or replace your cable service, it ain't happening. I'm glad I tried it as an alternative to watching Netflix with an Xbox Live Gold membership, but considering all the issues I experienced so far I will not be renewing my Playon license next year.
For me gold old cable service will have a place in my home for the foreseeable future. I just like to switch on the TV sometimes and have something come on without making a decision or waiting for something to load, re-load, and then stall in the middle of the best part.
If you're unsure about Internet TV and whether or not it is right for you, I encourage you to watch this Internet TV experiment from Hill Holiday on CruchGear. It does an excellent job at pointing out the problems with Internet Television.