So I got Outlook 2011 the other day, thinking that it might be a better solution than Thunderbird + DavMail. It works well enough with exchange 2007 and 2010, but if you're connecting to exchange/sbs 2003…forget about it – it's not supported. That got me thinking…if an iPhone can connect exchange 2003, why can't the latest version of Outlook?
So for those still running Exchange 2003 and active sync, you'll need DavMail to get Outlook to work in IMAP mode – totally weak sauce!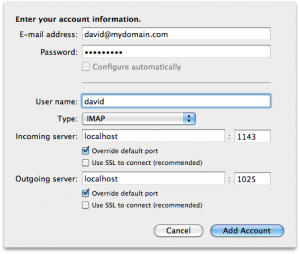 On the bright side, Outlook 2011 is a big improvement over Entourage. Having it available for Mac is a step in the right direction for Microsoft. While there's still a lot of functionality hidden in the Menu Bar, all the common features have been added to a ribbon like bar with self-explanatory buttons.

The new email dialog has been spruced up too. Formatting/message options are now located on the ribbon there too. No searching through the Menu Bar items required.
Conversations can be grouped for easy reference between emails and long chain email messages, but now there's a whole lot more options for grouping your email messages.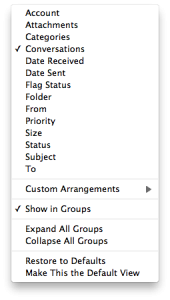 There's a nice new tool for managing email lists. Not sure if this ever existed in Entourage, but it looks pretty useful: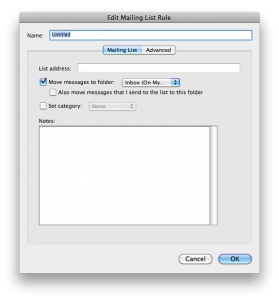 Of course meeting requests and calendar item invitations automatically get added to the calendar, but if you're using Outlook 2011 with DavMail there is no calendar sync available. Someone will have to create all your calendar events for you and send you the invites via email. Reminders do look nicer though and they stack up in this little dialog instead of each popping up in a separate window. You snooze/dismiss just a single reminder or all of them at once: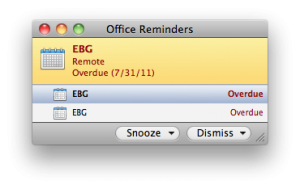 The contact management interface looks much better. Simply click any piece of info to edit contact info in place. Adding contacts from emails is easy via the add to contacts dialog that pops up when you double click an email address: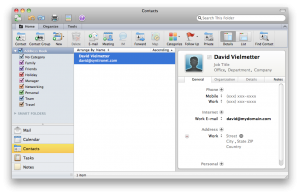 When you add that contact though, you don't get to add a lot of information in the wizard and it appears to want to send them a contact request or something. The dialog itself was confusing to me:
Again, there is no option to tie into or sync with a global address book if you're using IMAP + DavMail. I'm sure it works great with Exchange 2007/2010.
In a nutshell, I like Outlook 2011 for the Mac. It feels more like Outlook 2010 for Windows and since I use that for work, having something with the same look and feel when I'm on my Mac helps a lot. Most importantly getting my emails to look the same when sent from Thunderbird involved a lot of tweaking…with Outlook 2011 it'll be easy.