UPDATE: Screenr has closed. Screencast-o-matic is my preferred replacement: http://screencast-o-matic.com
With ever more complex business process software, the bugs are often deeply embedded within a process or sequence of steps. Unless you perform the sequence precisely, chances of reproducing the error, bug or crash are slim to none. This makes it difficult for developers and support staff to troubleshoot an issue and escalate it properly.
Often times, what happens is an infinite loop of customer reporting an issue and support staff not being able to reproduce it. The problem is almost always one of communication. Unless the support staff member can see the entire sequence of steps taken to arrive at the problem, there is little he can do for the customer. And development/quality control can't do much to patch bugs without a defined procedure that contradicts expected behavior.
This is where SCREENR comes in handy. It is one of the fastest and easiest ways to record the aforementioned sequence or process…you know the steps the customer took to produce the crash or error.
It's easy to share the recorded recordings with support and development staff so problems can be reproduced and hopefully patched faster. Once a screencast is recorded, you'll be able to publish it publicly for anyone to see via a screenr short link.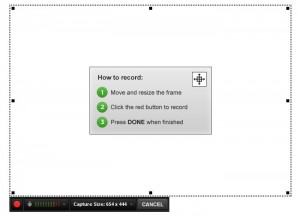 Limitations of SCREENR include a set amount of time you can record or capture a screen for free.
System requirements – Java Run Time
Screencast duration – The maximum length of screencasts is five minutes per screencast.
Webcam & Microphone support – SCREENR supports audio recording, but not webcam recording in addition to screencasting.