Microsoft's Skydrive has finally become a real competitor in the cloud storage arena. Yes, it's been around for a while, but it hasn't been very usable and it's interface has been severely lacking. The most recent overhaul, however has made Skydrive as easy to use as Dropbox. Freely available and functional Apps for IOS, Mac, Windows, Android and Windows Phone allow you to sync files and access your digital stuff from anywhere. Best of all, you get 25GB of free storage. On the downside, security during file uploads is just standard SSL and your data is not encrypted once in the cloud. I wouldn't recommend using Skydrive to store tax returns or other sensitive data. For what you get though, it's a very viable addition in the cloud storage arena.
When you log into Skydrive, you are greeted by the same look and feel as the recently re-designed outlook.com with easy to navigate blue and white rectangular layouts. Files and folders are denoted by the rectangular tiles in the tile view or the file name and extension in the list view. Recognized file types such as Word, Excel, PowerPoint and PDF files will appear in separate colors. Pictures are illustrated with Instagram like thumbnails. Even images are within folders, you'll see them via a thumbnail slideshow on the folder tile.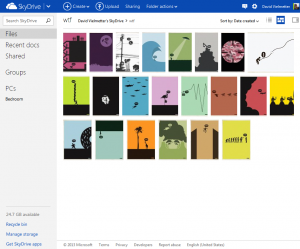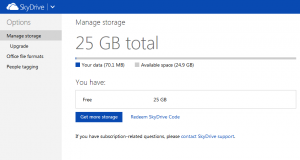 The right-click context menu is fully context specific and functional. You can use it to rename documents/folders, open files, control sharing, move files, download and more.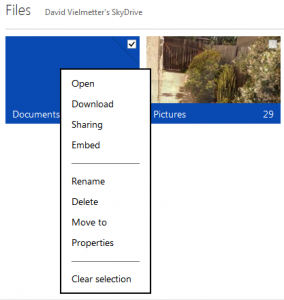 Navigating through files is natural and easy, but for those that have lots of files to navigate through, there is also a fully indexed search feature. Adding files is as simple as selecting, then dragging and dropping files into your browser.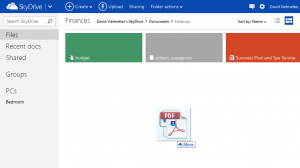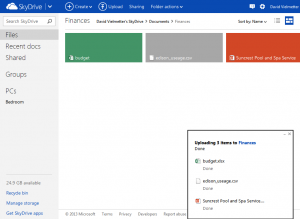 Viewing pictures is downright fun using the optionally full screen slideshow viewer. The feature I love best is the ability to delete pictures during the slideshow using the delete key on the keyboard, but the ability to jump to any picture quickly from details view is neat too.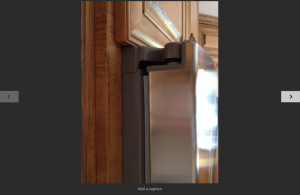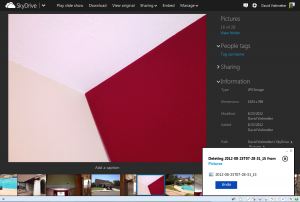 Want to modify the caption for a picture while viewing the slide show? No problem, just start typing.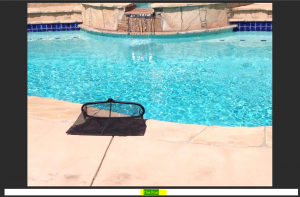 A free client tool for Windows and Mac can be downloaded right from your Skydrive to allow you to keep any folder on your computer in-sync with Skydrive. Simply drop a file into that folder and it'll appear in Skydrive in seconds. I've tested the client for three months now and it appears as stable as the Dropbox client.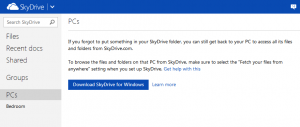 Editing Word, Excel and PowerPoint files is now relatively straight forward from a browser as well. The 2013 versions of Office Webapps included with Skydrive are decently featured and allow you to make a good amount of changes to those documents within a web browser. Editing from an iPad, however is still somewhat limited.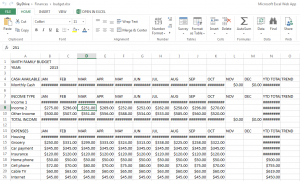 Well, there it is. My quick review of Microsoft Skydrive.  A new player in the personal cloud storage arena. Here's a quick summary of the pros and cons:
Pros:
25GB of space per free account
Easy to use and full featured web UI
Apps for iPhone and Android
Sync client for Windows and Mac
Single sign-on with your existing Hotmail, Outlook or Live account
Edit files using Office Webapps
Cons:
Microsoft's history with free products (no one knows if it'll be discontinued without notice some day)
Encryption is missing and security is low
Webapps are limited in functionality