So a while back Google killed Buzz and eschewed in Plus in an attempt to dominate the social media space. Only time will tell if Google+ will ever reach popularity levels similar to Facebook…so far it seems to be in the fizzing out phase of most new hot internet fads. But, if you're using Google+ and would like to display your public shared content along with pictures and comments on a WordPress blog, here's how.
I have a Social link at the top of this site which used to display various social feeds (Google Buzz, Flick images, and Pandora bookmarks). Buzz feeds are dead and Pandora killed it's bookmarked songs RSS feed feature so now the page only displays my public Google Plus feed. Setting it up was pretty straight forward.
[Requirements]
A WordPress powered blog which allows you to install plugins
Your Google Plus ID (view your public Google+ profile and copy the number shown below)

A Google API Key with Google Plus API added to it.
[step 1] With your Google+ ID and Google API Key in hand, log into the dashboard of your blog and click Plugins.
[step 2] Click Add New and search for Easy Google+ Widget plugin, then install the plugin and activate it.
[step 3] Navigate to Appearance -> Widgets and drag the Easy Google+ Widget to your Home Page.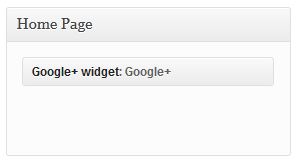 [step 4] Click the very right hand side of the active widget to expand the options and fill in the details including your Google ID, the API key, and Title. Notice that you can customize the size of the images and number of posts. Then click Save and view your site. I made some customizations to the CSS so my images are surrounded by some black borders.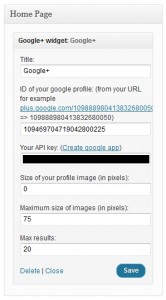 That's it. Checkout the final working product at https://davidvielmetter.com/social/