Yes I still use Windows Messenger…well now known as "Windows Live Messenger" and I'm not afraid to admit it. There are several benefits I find to using a tangible instant messaging program over browser based apps like Gtalk, Facebook IM, etc. They accurately indicate whether you are busy/away/available, they work with keyboard shortcuts and you don't have to worry about closing your browser all the time. One thing that bugs me about WLM on Windows 7 is that it occupies space on the task bar even when the main window is closed rather than just going to the notification area (the way it worked in Vista).
Well, it turns out there's a fix (published by Microsoft KB no less) that banishes Live messenger back to the notification area in Windows 7 (where it belongs!). Here's how:
[step 1] Close Windows Live Messenger, if it is running.
[step 2] Right-click Windows Live Messenger on the Start menu, and then click Properties.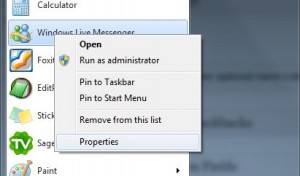 [step 3] On the Compatibility tab, select the Run this program in compatibility mode for check box, and select Windows Vista from the drop-down list.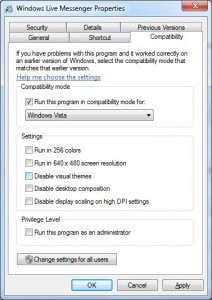 [step 4] Click OK to apply the settings. When you launch Windows Live Messenger again, you'll notice that it is now in the notification area.

Only when a chat window or the main live messenger window open will a corresponding item be displayed in the task bar.
That's all.