When you delete the Links folder from your user profile folder in Windows 7, strange things happen. First you'll still see the Favorites icon in the Windows Explorer navigation pane, but it'll be an empty heading. Right clicking the empty heading offers to "Restore favorite links", but this feature doesn't work if you've deleted or moved the Links folder. If you're just noticing the symptoms of a deleted Links folder, i.e. an empty Favorites heading in the Windows Explorer navigation pane, here's how to fix that:
[step 1] Download this ZIP file and double click to open it.
[step 2] Copy the Links folder inside to your clipboard using CTRL+C.

[step 3] Navigate to C:users<your username here> using Windows Explorer and paste the Links folder here using CTRL+V.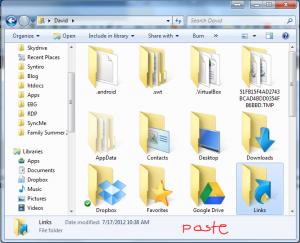 [step 4] Close and re-open any explorer windows.
That's it. Your Favorite Links in the Windows Explorer navigation pane should be restored and work as expected. REMINDER: You can add any folder to the navigation pane favorites by dragging it to the favorites area or right-clicking favorites and selecting "add current location to Favorites".