Last week I managed to max out my free 2gb of cloud storage at Dropbox. That got me thinking…should I bite the bullet and sift through 2GB of accumulated crap to clear some space OR should I look for an alternative to continue my reckless cloud based file storage behavior? After looking around a bit, I found SkyDrive. It's free, works just like Dropbox and I get 5GB of space…now we're talking Dropbox cleanup procrastination!
Cloud storage works great if you frequently work on a set of files from multiple computers (say work & home). The old way involved carrying around a flash drive and saving your files to it – lame!. The new way involves setting up a folder on each computer that syncs to a cloud storage account like Dropbox or SkyDrive. Now all you need to do is save the file on any computer and it'll be up-to-date on all your other computers automatically.
Here's how it works:
[step 1] Visit http://explore.live.com/windows-live-essentials and download the Live Mesh installer for Windows or Mac OS X.
[step 2] Get a Hotmail account (if you don't have one already) and install Live Mesh on all computers you want to be synced.
[step 3] Launch Live Mesh on any computer and sign-in with your Live ID/Hotmail username/password.
[step 4] Click Sync a Folder and select a folder you'd like to be synced. Then check the "SkyDrive synced storage" checkbox.
[step 5] Go to any other computer that has Live Mesh installed and open the program. Then click Sync a Folder and select a folder on that computer to sync and then choose the SkyDrive synced storage option.
[step 6] Need to access your files from a computer that doesn't have Live Mesh installed? No problem, just hop on over to the skydrive.live.com website, log in and click the View synced folders link to access all your cloud storage account files in a browser. If they happen to be Microsoft Office files (word, powerpoint, excel, etc.) you can edit them using the Office Live right there in your browser.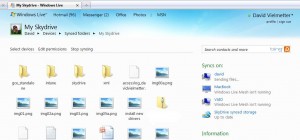 That's it.