I recently got a free Google Voice account after asking for an invitation. Google Voice is a new Voice over Internet Protocol (VOIP) service from Google that offers a few key advantages over other VOIP services. The service is still in early beta stages (so outages and bugs are prevalent), but so far perks such as free 411 directory assistance, voice-mail transcripts, call recording and now customized business cards have kept me interested. Here's how to get your own set of awesome looking Google Voice business cards.
[step 1] Get an invitation for the service.
[step 2] Log into your Google Voice account and on the bottom of the left hand menu look for the "Show off your Google number" business card picture. Click it.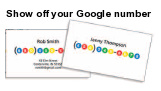 [step 3] Design your business card using the iPrint form.

[step 4] Continue to checkout your free starter order of custom business cards.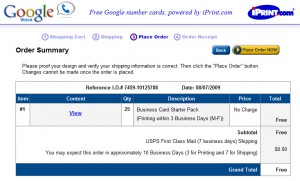 [step 5] Receive your order confirmation and wait for your free business cards.


That's it. Attach them to your resume for a unique yet professional twist.