I'm typically not an early adopter, especially when it comes to Apple software upgrades. I think I avoided OS X Lion altogether because I was perfectly happy with Snow Leopard and didn't need any of the features Lion and Mountain Lion promised. That said, I upgraded my iPhone 4s from iOS 6 to 7 the day it was released. There were several enhancements I wanted and was willing to give up some stability for after trying them out on a friend's beta tester phone. Here are the specific features I really wanted:
A better lock screen. iOS 7 allows you to swipe anywhere on the screen to unlock. Also the code entry screen has bigger buttons that are easier to see. I like it much better and haven't entered the unlock code wrong once since the upgrade.
The native camera app in iOS 7 is a gazillion times faster and easier to use.
I like screen you get by swiping in from the bottom with all kinds of settings shortcuts.
I like the updated notifications screen you get by swiping in from the top.
The upgrade went smoothly and I am happy with how my iPhone 4S runs using the new OS. Battery life and performance seem to be on par with iOS 6 on the 4S. I haven't seen any apps freeze, hang or not work as expected with iOS 7 and I haven't had to kill any apps running in the background.
That said, there is a feature missing from the new mail app which is a big disappointment for me. I communicate via email when I am working in the field and tend to check my phone several times throughout the day. I liked the message thread view in iOS 6 because it gave me a message thread count. This number corresponded to the number of replies in a specific email thread and I used this to quickly determine which emails other members of my team had already responded to. With iOS 7 this has changed. Threaded messages no longer show a count on the initial message and one must tap into the first message to see the number of replies at the top of the screen.
If you're like me, you'll have Googled this and found the Apple discussion thread below where others have chimed in with the same complaint. So for the most part, this article serves as a way to get people to submit as many feature requests to have apple bring this feature back as possible. There's not much we as end users can do besides submitting useful feedback to Apple, so that's what this article intends to do. If you liked the message thread count in the iOS 6 mail app, then click the link below and submit it as a feature request to Apple…and thanks.
https://discussions.apple.com/message/23074414#23074414
[iOS 6 mail app with message thread count (highlighted in yellow)]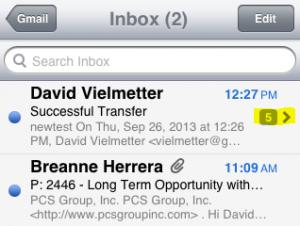 [iOS 7 mail app same screen, but one must tap into the initial email message to view the thread count]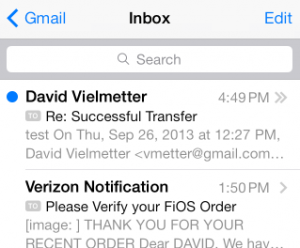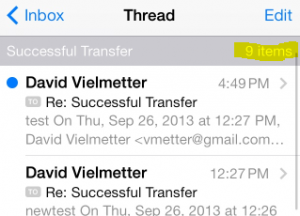 I am hopeful that with enough feature requests, Apple may just fix this in the next update. If you'd like to help, click the link below and fill out the feature request form and ask to have the feature added back.