If you've made the switch to Office 365 you may have had a relatively smooth ride since the they've moved things to Exchange 2013 and Office 2013. That said, nothing's ever all roses all the time, am I right? Today a customer experienced an issue where suddenly Lync 2013 is no longer able to launch and shows an error about the Outlook Datafile being inaccessible. Here's how to fix the situation:
[the problem]
Lync 2013 displays this error on startup: Outlook Data File: The file <filename> is in use and cannot be accessed. Close any application that is using this file, and then try again. You might need to restart your computer.
[the solution]
[step 1] Close all Microsoft Office applications including Outlook 2013 and Lync 2013.
[step 2] Open the task manager to make sure all Microsoft Office processes are terminated.
[step 3] Click Start->Control Panel->Programs and Features and highlight Microsoft Office 365. Click Change. Select Quick Repair and then click Repair.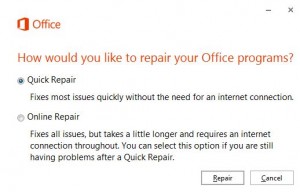 NOTE: if asked to close all programs, click Close All.
[step 4] When the repair is complete, open Outlook 2013, then Lync 2013 to see if the error has been resolved.
[troubleshooting]
If the above steps haven't resolved the issue, try the Online Repair instead of the Quick Repair.
If the Online Repair doesn't resolve the issue, re-create the Outlook email profile.
If re-creating the MAPI/Outlook email profile doesn't work, run the Office 2013 removal fixit tool [download here http://support.microsoft.com/kb/2813143]. Then re-install Office 2013.
That's it.