I use Outlook at work and a lot of the information I send out in messages is copied from various sources to the clipboard and then to the pasted into the new message dialog. One thing that has always annoyed me about this process is that by default in Outlook the underlying styling/formatting of the copied text is also pasted. To make matters worse, when you continue to write text after pasted content the style/formatting of the pasted text is now used. Here's how to stop that foolishness and just paste the plain text:
The problem: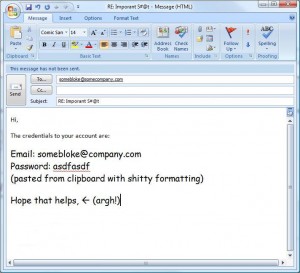 The solution:
[step 1] Click the office orb (yes, that giant shiny button with the office logo) in the top left hand side of the new message dialog. At the very bottom of the menu that pops out click "Editor Options".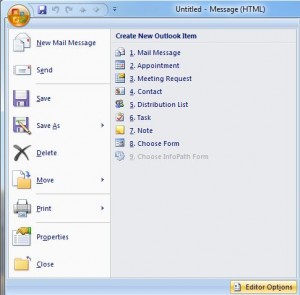 [step 2] Click the "Advanced" tab and in the "Cut, copy and paste" section set your preferred pasting options to "Keep text only" from the drop down.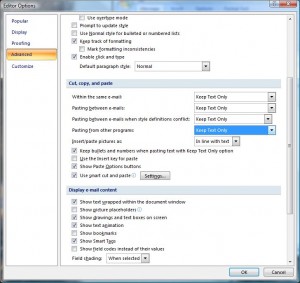 That's it.