I realize that Office 2013 is not the latest and greatest Office, but I have customers who either because of licensing or compatibility reasons still run Office 2013. In this particular case Skype for Business (SfB) 2016 was installed on a system running Windows 7 Pro and MS Office 2013 with all patches up-to-date. Oddly enough while Skype for Business 2016 was installed the system appeared to be running problem free with Office 2013. Even the SfB integration in MS Outlook 2013 indicating availability status colors appeared to be working properly. Then the end user uninstalled SfB and subsequently observed the following error launching multiple MS Office applications.
[problem]
Error observed after launching MS Word 2013 after uninstalling SfB 2016: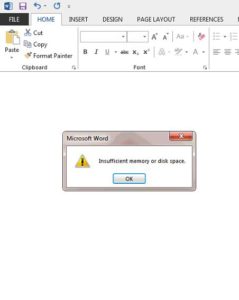 [solution]
The fastest solution appears to be to re-install Skype for Business 2016. Re-installing SfB fixed the issue immediately and after the re-install all MS Office 2013 applications work as expected, so I can only assume that the uninstaller supplied with SfB also removes shared components required for Office 2013 to function properly.
If you don't want SfB on the system anymore, you'll need to run the MS Office removal fixit tool and completely remove all MS Office products and then just re-install MS Office 2013. Simply repairing the existing MS Office 2013 after removing SfB 2016 does not fix the problem.