I've written about Synergy in the past. Basically Synergy is neat software that allows you to extend the use of one computers mouse/keyboard to another computer. This can be useful if you want to add a notebook or an extra computer to your multi-monitor workstation setup and control it using your main computer's keyboard and mouse.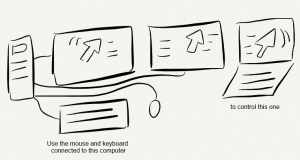 The new version of Synergy has an issue where after being setup properly the mouse will work on the remote client system, but the keyboard will not. My setup is a a standard Windows 7 PC as the Synergy server and a MacBook Pro (2009) running bootcamp and Windows 7 as the client. Here's what I did to fix the issue where the keyboard doesn't work with Synergy:
[step 1] On the client computer, click Start->Control Panel and open Region and Language.
[step 2] Click the Keyboard and Languages tab and then click Change keyboards…
[step 3] Click Add… and expand English->Keyboard and check the US box. Then click OK.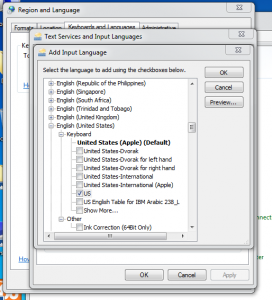 [step 4] Click OK one more time. This should resolve the issue. You should now be able to use the keyboard with Synergy.
That's it.