Ever had to read through pages upon pages of printed material to find just a few small pieces of information? In school I often found myself having to read through entire chapters of dry useless information just to pick up a few morsels of pertinent text to to answer a question or verify some facts. Wouldn't it be great to be able to search any printed text, find some key phrase/word and read surrounding text to understand the needed context? There are several free OCR document services available and I found them extremely useful when doing research or homework. Here's how:
[step 1] Grab your printed text pages and scan them. The result can be a bunch of images or a large PDF whatever your scanner gives you will work.
[step 2] Go to OCR Terminal. Log into Google Documents (you'll need a free Google account) and click Upload->Files…
[step 3] Be sure to check the box stating "Convert text from PDF and image files to Google documents."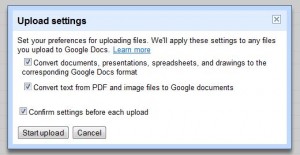 [step 4] When files have been uploaded, they will be searchable Google documents even if the source was a a scanned image or PDF made of page scans.
That's it.