My MacBook Pro has been running out of hard disk space for some time. I'm down to less than 1GB of free space on both my Macintosh HD and the Boot Camp Windows 7 partition. So I hopped on NewEgg and got a WD Black 500GB notebook hard drive and 8GB's of RAM for $150. Installing the RAM was a piece of cake, but moving the data over to the new drive proved much more tricky. Here's how I finally got my 250GB dual boot drive cloned over to the new 500GB drive.
[the problem]
You have a Boot Camp partition on your mac hard disk so you can't just do a straight clone of the entire drive using Carbon Copy Cloner or Super Duper (those programs don't clone the Windows partition). Since you also have a larger drive, you don't just want to do a sector by sector clone leaving you with a new drive that has the same partitions as the old drive.
[the solution]
This solution will allow you to copy your partitions from your current dual boot Mac setup with Boot Camp to a larger drive but re-size the partitions at the same time. I went from a 250GB drive partitioned into 200GB Mac and 50GB Windows to a 500GB drive with 380GB Mac and 120GB Windows partitions.
[step 1] Attach the new drive to your MacBook using a SATA t0 USB adapter or a USB hard drive enclosure.
[step 2] Format the new drive using a single partition as Mac OS Extended (Journaled) file system.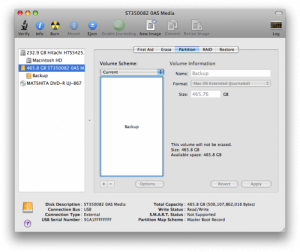 [step 3] Download Carbon Copy Cloner or Super Duper (I used Super Duper) and clone your existing Mac hard drive to the new USB Drive.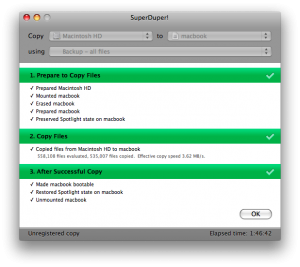 [step 4] Install the new drive into the computer and boot it. It should boot up the same way your Mac booted up with the old drive but you won't see your Boot Camp partition.
[step 4] Run the BootCamp Assistant and create a Windows partition with the desired size on the new primary drive. At the end of the wizard select Quit & Install Later.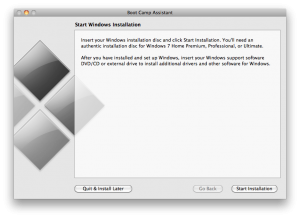 [step 5] Attach the old drive via a USB enclosure or SATA to USB adapter. Check to make sure you can access the old Boot Camp Windows partition.
[step 6] Download & install WinClone 2.3.3 and create an image of the USB attached Boot Camp Windows partition on your old drive. You can save the image on a network drive if you need additional space or just put it on the mac partition of of the old USB attached drive.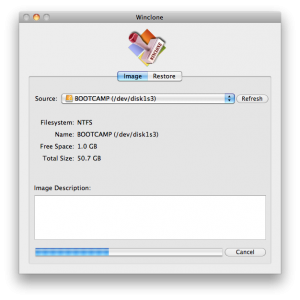 [step 7] Restore the WinClone image to the Boot Camp partition you created in [step 4].