So I bought myself an external 1TB USB hard drive the other day. The idea was to use it for backups on my MacBook, but later I decided to use it on a PC instead. Since I had initially formatted the drive in OS X, the Windows disk management tool listed an EFI partition on the disk but wouldn't allow me to remove it. Here's how I finally deleted it in Windows 7:

[problem] When formatting a previously Mac formatted drive in Windows 7 you are unable to remove the EFI System partition/volume.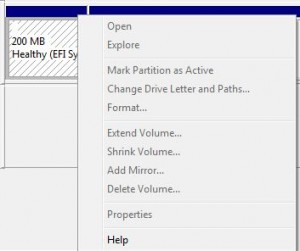 [step 1] With the USB drive connected, open a command prompt with elevated privileges.

[step 2] Start the disk partition utility by typing diskpart.
[step 3] Type list disk to see all of your connected disks (be sure you're working on the right disk, if you select the wrong disk you'll be sorry – see disclaimer). To select a disk type select disk # where # is the disk number you want to delete the EFI partition from.
[step 4] Type select partition # where # is the number of the partition you want to delete.
[step 5] Type delete partition override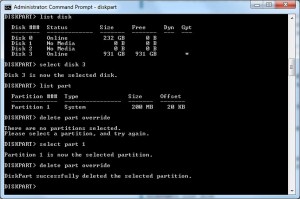 That's it.