This post will show you how to turn an old broken set of headphones into some pretty impressive passive noise canceling headphones for about $30 bucks. Passive noise canceling doesn't use the latest Bose quiet comfort electronics…it accomplishes noise reduction the old fashioned way…by blocking it.
I was lucky enough to pick up a used pair of used Grado SR80 headphones from eBay. They were without foam on the earpieces and had a broken connector to the headband. The broken headband rendered the headphones pretty much useless unless you held both speakers up to your ears, luckily though the speakers themselves were in good working order.
I still had a pair of dusty Howard Leight hearing protection ear muffs I bought while working in a loud data center. They came in handy for the passive noise canceling and headband replacement.
Materials:
Hot Glue Gun
Xacto knife
[step 1] I removed everything except the speaker enclosures, headphone speakers and wires from the Grado SR80's.
[step 2] I removed the cushions form the ear muffs.
[step 3] Using the Xacto knife, I removed some plastic from the bottom of the ear muffs as to make room for the headphone wire.
[step 4] Using a bit of force I pushed the headphone speakers into the cushion of the ear muffs using the surrounding plastic to hold the speaker in place nice and snug.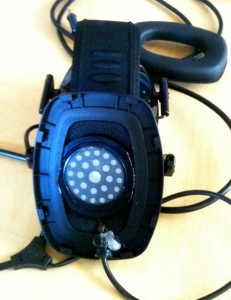 [step 5] I hot-glued the headphone wire into place after wedging it into the previously cut-out area at the bottom of each ear muff.
Finally I just replaced the cushions and plugged em in and cranked up the volume. Nice.
Next, I'll just need to DIY myself a CMOY RA1 JRC4556 Headphone Amplifier in an Altoids tin.