I don't know why, but this has been driving me nuts. Thanks OCD. When I check my Gmail on using the App on IOS or Android, it reports that I have 3 unread messages in my inbox. No matter how far i scroll down in the inbox using the app, however no unread messages are found. Furthermore, when I log into Gmail using a web browser from a computer, it shows that I have no unread messages in the inbox…so what gives Google/Gmail? Do I have unread emails or not?!
Here's how to reset an incorrect unread email message count in the Gmail App for IOS and/or Android:
[the problem]
The Gmail App for IOS or Android reports unread emails in the inbox, but none can be found by searching the inbox. Also when logging into Gmail using a browser Gmail reports no unread emails.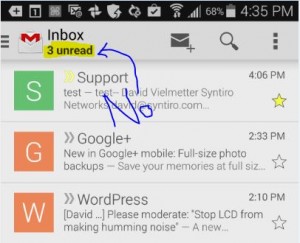 [the solution]
[step 1] On desktop computer (PC or Mac), open your favorite web browser and log into Gmail.
[step 2] In the search box at the top, type label:unread and click the magnifying glass or hit Enter. This search will return all unread emails in your mailbox.

[step 3] Expand the select all checkbox and click All to select all conversations in the current view.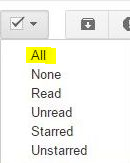 [step 4] IMPORTANT: If your search matches more than 50 conversations, you'll notice a yellow bar at the top of your search allowing you to Select all conversations that match this seach link. Click Select all conversations that match this search to select all unread emails.

[step 5] Click the More button and select Mark as read.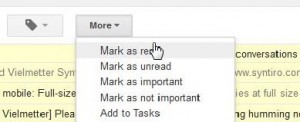 That's it. Check your App it should show the correct number of unread messages going forward.