I have an old Hotmail account which I use occasionally (mostly for registering things). The trouble is that it gets lots of spam and the interface is kind of slow and cumbersome to use. I've always wanted to have my Hotmail messages in Gmail, but forwarding just didn't cut it. Now that Hotmail allows POP access via live.com you can have your Hotmail checked in Gmail. Best this way your Hotmail will get a the Gmail spam scrub treatment leaving you only with the stuff you want.
Here's how git 'er done:
[step 1] First you'll need to get a Gmail account. If you already have one, great…but if you don't, just get a friend with Gmail to send you an invitation (UPDATE: Gmail is now open to the public and anyone can sign up for a free account without an invitation).  Or, if you own a domain name, simply setup Google Apps Standard and you'll get 50 gmail accounts with your domain name for free. To setup Google Apps check my previous article here.
[step 2] Once logged into your new Gmail account click Settings->Accounts and Add another email address you own.
[step 3] Enter the email address of your Hotmail account and click Next.
[step 4] Enter the mail settings for the account you are adding. Gmail will try to automatically set all the necessary parameters for you. All you need to enter is your password and click next.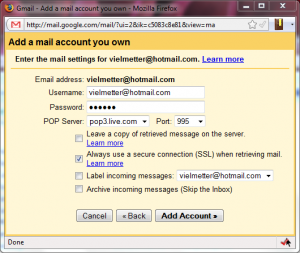 [step 5] An email with a verification code will be sent in an email to your Hotmail account. To complete the verification process simply wait a few minutes until the email pops into your new Gmail inbox and then click the verification link inside.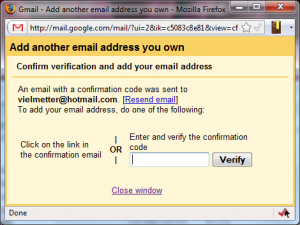 That's it. You are now setup to receive your hotmail in your newly created Gmail account. Best of all, now you can take advantage of Gmails award winning spam filtering even on your hotmail.
[step 6] Optional. If you want to send email from your new Gmail account using your hotmail email address by default you'll need to make your newly added Hotmail account in Settings-Accounts the default.