I'm traveling to Germany in a few days and wanted to use my Garmin StreetPilot c550 to help me navigate the streets of Berlin. I got a used 2008 European Maps SD card off of Amazon for a few bucks and figured why don't I try getting the maps onto my Garmin GPS. But somehow instructions on how to do this differ greatly online and the Garmin website seemed to have some major issues the day I was trying all of this out. Some sites suggested I needed some MapSource software while others said I needed the Garmin Map Updater…long story short, after some playing around, here is what I found:
First off, after hooking my garmin up to my comptuer via USB I discovered that it mounts just like a regular 2GB flash drive in Windows. I didn't need to install any Garmin software or drivers (not that I could have thanks to Garmins broken website).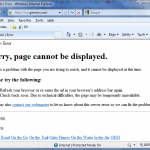 The main folder structure of my c550 (in my case it mounted as drive I:) has two folders in it:
The Garmin folder has a bunch of files and subfolders in it containing what I can only assume to be the Garmin OS and maps, while the MP3 folder contains (drumroll) some MP3's.
After inserting the European Maps SD card I had purchased into the Garmins SD slot I saw another drive pop up (in my case it mounted as H:). It has the following structure:
On the SD card the there was only a single file called GMAPSUPP.IMG. After doing some searching using Google this is the name used for any supplemental maps on a Garmin GPS. for additional maps, names could be GMAPSUP2.IMG, etc. On the main device the map file has a different name indicating that it is the default map, GMAPPROM.IMG. So here is the map file naming convention for the Garmin c550:
Primary Map File: GMAPPROM.IMG
Secondary Map File: GMAPSUPP.IMG
Tertiary Map File: GMAPSUP2.IMG
Fist thing I did was back up all of the map files to my computer (just in case I loose my SD card). Then, to make the European map file the default I renamed the GMAPSUPP.IMG file to GMAPPROM.IMG and overwrote the existing file on my c550.
Now I had the European map file on my GPS as the default map. So essentially any map file named GMAPPROM.IMG will presumably work as your default map file in the Garmin. Booting up my GPS and going to Settings->Maps->Map Info revealed that indeed now the CN Europe NT Map was now my default map.
NOTE: Later I read online that it actually doesn't matter which file is the default. As long as you have more than one map files loaded into the GPS (via main memory or SD card) it will show the correct map based on your location. Additionally with more than one map you can simply spell the country you want to find an address in using the Where To main menu.
So, I copied the backed up CN North American Map file (GMAPPROM.IMG) file back to the GPS's main memory overwriting the previous CN European Map file. Since I had this file on the SD card already, there was no need to make it the default map and I could use both simultaneously.
Now due to the map files size (~1.7GB), I decided to try using an SDHC 4GB card I had purchased a while back as a ReadyBoost drive for Windows VISTA. So I formatted the card with FAT32 file system, created a Garmin folder and copied the GMAPSUPP.IMG file into it. Voila, my Garmin now loads the CN European Map file from the 4GB SDHC card and I've got 2.2GB of space for another map file in the future, Awesome!
So, after all that, it turns out getting a map file onto your Garmin GPS is pretty simple, just copy the map file into the appropriate folder and you're set.