Telltale Games is the creator of the remastered and new Tales of Monkey Island game among others. The PC version of the game is simple and works well enough, but it does have a flaw in the design of the graphics settings. In the games graphics control panel you can choose from a fixed number of different screen resolution presets to match your computers display size. Choose an unsupported resolution in full screen mode however, and all you'll find will be a "no signal" message on your monitor whenever you launch the game. Most windows systems have an extra protection mechanism to avoid this problem by asking you to click "yes" within a 30 second time frame if you like the new resolution setting…but not this game. So, if you've accidentally chosen an unsupported resolution setting in your Telltale game and now all you've got is a blank screen, here's how to get back to playing your game.
[step 1] If you're seeing a blank screen now, try pressing CTRL+ALT+DEL and then end the task for your Telltale game. Alternatively you can try hitting the Windows button on your keyboard to bring Windows back into active context. If this fails, you may want try a reset.
[step 2] Download this screen resolution patcher tool.
[step 3] Close any instances of Telltale games and unzip (extract) the resolution patcher tool into C:Documents & settingsUSERMy DocumentsTelltale GamesYourTelltaleGame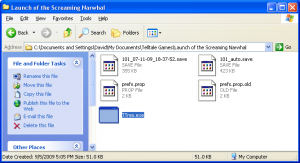 [step 4] Double click TTres.exe and click Read to read the current resolution for that game. You should see your last unsupported setting in the main window. Using the horizontal and vertical resolution fields enter a resolution of your choice (I used 800×600 as the default) and click Patch.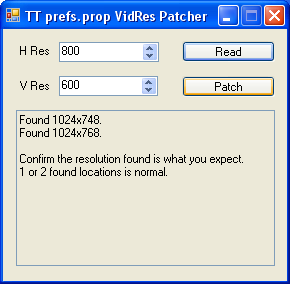 [step 5] Exit the resolution patcher tool and restart your game. If you simply reset your resolution to 800×600 you can now try a different resolution setting until you find the optimum setting to match your monitor.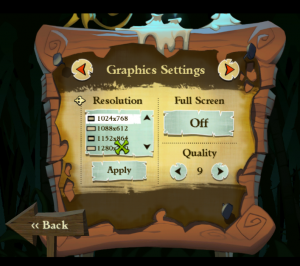 That's it.