In this post I'll show how to export your Firefox saved passwords to a nice HTML file for safe keeping in the event of a disaster. It's true that there is already a handy utility called Mozbackup that lets you backup your Firefox profile including all your saved passwords, but this method does not let you view them. So if you've got the need to look at your saved browser passwords without opening Firefox, this post is for you. I myself had a corrupted Firefox profile where Firefox wouldn't remember my passwords for some sites and having my saved passwords in a file helped create a new profile.
The basic procedure is ultra simple. Download a file, open it with Firefox, click Allow and voila! However there are some security concerns. The script html file you'll need to download was created by Andrew Poth and can be downloaded from his website. Alternatively I have hosted the file with a matching MD5 key below. Since these are your passwords I recommend checking to make sure the hash key matches the download and disconnecting your Internet during the procedure (just in case).
GetFirefox Passwords (MD5 checksum: AA852EAE3C7DDD290FE24080DC4A4A5A)
[step 1] Download the GetFirefox Passwords.html above file & save it on your desktop (to ensure that it is hack free, verify the checksum above).
[step 2] Open Mozilla Firefox, click select Tools->Options… and under the security tab ensure that you are not using a master password to protect your saved passwords (you can turn this feature back on later).
[step 3] From within your Firefox browser choose Open File… and select the GetFirefox Passwords.html file located on your desktop.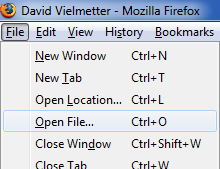 [step 3] Turn your wifi off and/or disconnect your PC from the Internet, and then click Allow to 2 warning messages.


That's it! You should now see a page with all your passwords in a table. You can print this file or save it just like any other html file. Make sure you keep it in a secure location.