My main printer (Canon i560 Ink jet) is connected to an old Gateway notebook running XP in my living room. The notebook is connected to my wifi network and the printer is shared, but I cannot connect to it from Windows VISTA/7 x64. Whenever I attempt to connect the printer from these operating systems Windows goes into a driver search dialog which fails and needs an INF file which Canon does not supply to continue. Here's a work around.
The problem (poor man's wireless printer):
I can see the printer on the network by clicking Network on the start menu and navigating to the computer that has the printer shared. I can see it, but when I double-click it to connect, I get a message saying that the driver could not be found. To continue an INF driver installation file must be supplied.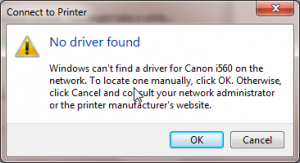 Since I don't have the INF file (because the Canon driver files are contained within a setup program) I cannot continue and must exit without installing the printer.
The solution (poor man's wireless printer):
[step 1] First you'll need to download and install the printer driver for the printer using the setup program for on your computer (in  my case the Canon i560 driver for Windows VISTA x64). The easiest way to do this is to download driver setup program and install it.
[step 2] Next click Start->Devices and Printers. Then click Add Printer.
[step 3] Select Add a local printer and click next.
[step 4] Select Create a new port and choose Local port.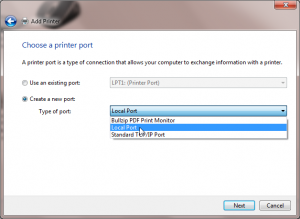 [step 5] Enter the UNC Path & name of your printer name (i.e. \computersharedprinter) and click OK.

[step 6] Specify the driver for your printer. If you've installed the driver, your printer should show up in the printer list by manufacturer name. If it isn't listed, repeat step 1. Click next.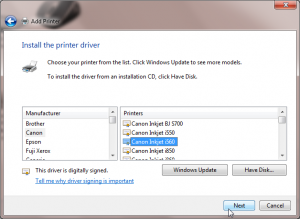 [step 7] Select Use the driver that is currently installed and click next.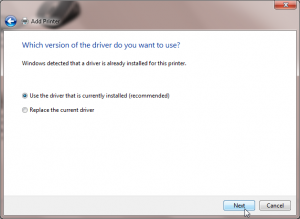 [step 8] Give your printer a name and indicate whether or not you want to share it. Then click next.
[step 9] Print out a test page to make sure the installed printer works properly and click finish.

That's it.