Many IT/IS administrators for smaller organizations feel that an Exchange environment is still the most cost effective method to meet a firms collaboration needs. The argument for Exchange is often based on very reasonable prices of server hardware bundled with discounted licenses of Microsoft Exchange or SBS. The trouble is that this line or reasoning doesn't take into account some key aspects such as security/spam filtering, fault tolerance, storage, disaster recovery or reliability. Ensuring that your Exchange environment can encompass these additional aspects will cost your organization a lot more than your standard Dell PowerEdge with SBS pre-installed. Just check out Dell's Exchange Advisor if you don't believe me. Google Apps Premier, on the other hand, lets small businesses eliminate the initial infrastructure costs by providing Enterprise level collaboration services comparable to Exchange for $50 per user per year.In this article I'll discuss how to migrate users from that outdated exchange server that keeps crashing to Google Apps Premier with virtually no change in user experience.
Before I get started though, I want to talk a little more about the benefits of Google Apps Premier for a small business. A few years ago (before Google Apps was available) I worked at a midsized bio-tech firm and had to shell out tens of thousands of dollars to run a reliable Exchange environment for about 100 users. One of the most difficult parts of running a local Exchange environment was spam control, mailbox size, and mobile user access. I had to implement an expensive multi-tiered spam control system to reduce the amount of spam, limit mailboxes sizes 300MB to stay within a reasonable backup time window and upgrade to the enterprise license to utilize an information greater than 64GB. I had to implement an ISA server to allow remote users to access the outlook web interface (OWA). While the infrastructure worked reasonably well, it took a full time systems administrator (myself) to maintain it with security updates, patches and troubleshooting when issues came up.
My point is that knowing all I know now about maintaining an Exchange environment, I can say with certainty that a firm of 100 people would be cheaper off going with Google Apps Premier. The thing most managers don't realize is how much in terms of cost is associated with maintenance and 3rd party add-ons of an Exchange environment. So if you're the CEO of a small company in the position to decide whether or not to buy a server with Exchange because it's cheap, do the math first and price out Google Apps Premier.
One point I want to mention separately is the advantage Google Apps Premier can provide over an Exchange infrastructure to remote users. The Gmail and Google Calendar interfaces work in any browser and they work fast in any country regardless of your company's Internet connection. In other words, Google has ensured that it's Apps Premier service is accessible anywhere in the world with a 99.9% uptime guarantee. There's just no way small businesses T1 or SDSL and Exchange server can provide this level of uptime or speed to your remote users without spending big bucks.
So, that said, here's how to migrate all your users from Exchange to Google Apps Premier at once (for system administrators):
[step 1] In your Google Apps Premier dashboard, create user accounts for each of your employees. Ensure the password you create for each Apps account matches the users' Active Directory (AD) account. Perhaps the easiest way to do this is to reset the AD account passwords for the users you are migrating right before you do the migration. Then and email everyone with instructions on how to change their password in Google Apps. One last option would be to setup the single sign-on (SSO) connector for Google Apps. This would eliminate the need for separate Google Apps passwords.
Click Create new users.
Optional: Click Create multiple users to upload many accounts at once using a .csv (comma separated values) file.
Enter the new user's First Name, Last Name, and desired Username in the appropriate fields.

Google Apps automatically generates an initial, or temporary, password for each new account you create. If you would like to customize a user's password, click Set password. Then, enter the password in both fields. Passwords are strongly recommended to be at least 8 characters, especially for optimal use with IMAP or POP.

Click Create new user.
Click Print instructions or Email instructions.
[step 2] Ensure that your Exchange server is accessible via IMAP to the internet for the duration of the migration process (this will probably require you to add some temporary static routes & rules to your firewall). You will also have to turn on the IMAP service on your exchange server if it isn't already running.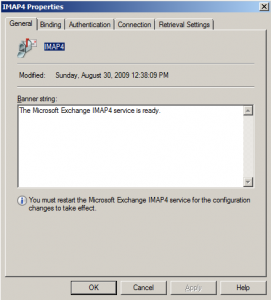 [step 3] In your Apps dashboard click Advanced Tools and select the Continue setting up mail (IMAP) migration. Enter your companies Exchange server details (as it pertains to accessing it from the Internet – this depends on how you setup your static routes in the firewall).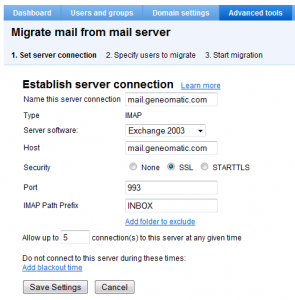 [step 4] Once your server setup is complete, you'll be asked to specify the user accounts you want to migrate. You can do this for a few or many depending on your migration's size.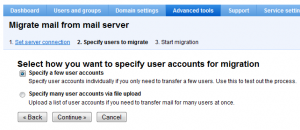 [step 5] If you do only a few users you'll have to enter the Google Apps username, the exchange username and password for each account and test whether Google can access them before you can continue.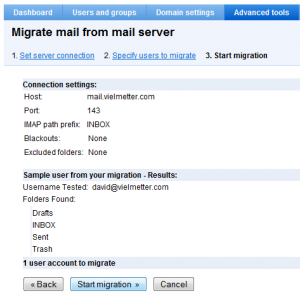 [step 6] If everything checks out you're ready for your migration. Note this may take a lot of time depending on your users' mailbox sizes and connection speed. You'll see a migration progress bar for each account in your migration. If you want you can checkout details status by clicking the Migration ID or just wait until they all say "completed" before you're done.


Those were the instructions on how to migrate your entire organization (for system administrators), but lets say you've got a small organization with an exchange server and you only a couple of users that want to migrate to Google apps (without a system administrator). Here's how to move your exchange account to Google apps from the desktop using Outlook connected to Exchange:
[step 1] Download and install Google Apps Sync for Microsoft Outlook. NOTE: For this to work, you must be running XP/Vista and Outlook 2003/2007 with an Exchange account. Both Windows and Office must be at the latest service pack level.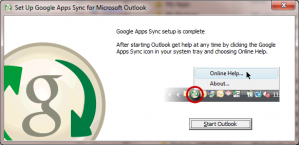 [step 2] Close Outlook and click Set up a Google Apps Sync user and enter your Google Apps username (email) and password.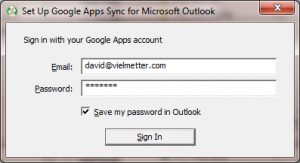 [step 3] Click Sign-In and verify all of the things you want to import to Google Apps Premier are checked (all are checked by default). Then click create profile.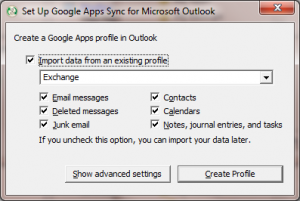 [step 4] Outlook will create a new profile for you and import all mail, calendar items and contacts from your Exchange profile to your Google Apps account. NOTE: This may take some time depending on the size of your Exchange profile.
[step 5] Finalize your Exchange migration by pointing your domain's MX records to Google Apps and shutting down your Exchange server 36 hours after the MX record change.
To see how Google Apps Sync for Microsoft Outlook works, checkout the following video presentation: