I have two cats and checking up on them when I'm traveling can be a hassle. Last year I used a $5 dollar web cam and a trial subscription to some streaming video service I can't remember but it only kinda worked and the image quality was terrible. This year I decided to use Skype and a better web cam and so far the results were great. It was a snap to set up, plus I can hear my cats meow and they can hear me!
Here's how to I did it.
[Equipment used]
1 x Microsoft USB LifeCam VX-7000 web cam (eBay – $35)
1 x AC outlet timer (Optional Target – $6)
1 x Internet connected computer with a USB port capable of running Skype.
[requirements]
3-4 email accounts with unique email addresses.
Broadband always-on internet connection.
[step 1] Install the web cam in an area that overlooks a place where your pets like to hang out. If the cam is built into your computer, place the computer such that it faces your pets favorite resting area.
[step 2] If you purchased a new webcam, install the drivers/software it came with (see vendor/manufacturer instructions). Make sure you adjust your computers power settings so it doesn't turn off or go to sleep/hibernate while you're on vacation.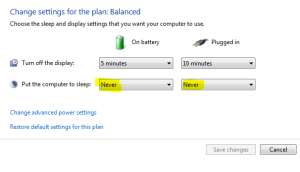 [step 3] Download & install Skype.
[step 4] Launch Skype and create a new Skype account for that computer/camera. HINT: you can just enter fake information in the Skype signup wizard. All you need to complete a new Skype account is a valid unique email address/skype name and access to that email account to confirm you are the owner.
[step 5] Once logged in using the account you created, go through the initial setup wizard to configure your camera and microphone. NOTE: During my setup I had to specifically tell Skype to use the microphone built into the web cam.
[step 6] Once the initial setup is complete, click Tools->Options->Privacy and make sure you only allow people in that accounts contact list to contact you. Checking this option will make sure that some random stranger can't just call you on your living room Skype camera.
[step 7] Grab your smart phone, iPad or whatever device you're taking with you on your vacation and launch Skype. NOTE: If you don't already have Skype on that device, visit the AppStore, or Google Play Store and download/install the free Skype app. NOTE: If you don't already have a personal Skype account for yourself yet (not the one you created in [step 4]), create one on your mobile device.
[step 8] On the device you're taking with you on your trip, open Skype and Add the account you created in [step 4] to the contact list on your mobile device.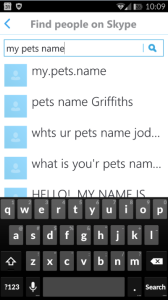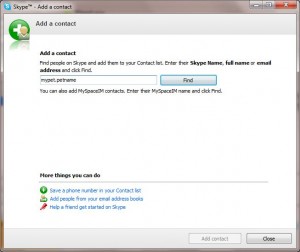 [step 9] On the computer you setup as the camera, you'll need to confirm/approve the contact request in [step 8].
[step 10] On the computer you setup as the camera, click Tools->Options->Calls->Show Advanced Options and check the box that says "answer incoming calls automatically" and "start my video automatically when I am in a call". Click "Save" to save your settings.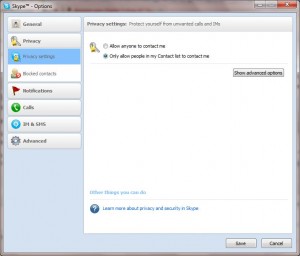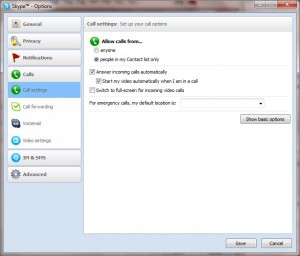 [step 11] Make a test call from your laptop to the pet account. You should see the video automatically pop up and be able to hear audio. If you connect a set of speakers your home computer you can even freak your pets out by talking to them.