I spent an evening looking at SimplePie and iWebkit and ended up building a web-based RSS feed application for the iPod/iPhone in just a couple of hours. The application lets me access my favorite APM and NPR podcast feeds without having to download or synchronize/find them with iTunes first. It streams the podcasts directly to my device and for the amount of work I put in, I'm pleased with how well it works.It all started with my favorite APM show Marketplace. It's on the radio at 3:00pm where I live, but because things come up, I often end up missing it. To catch up it I have to remember to open iTunes, wait for it to download the podcast, synch iTunes with my Touch and then listen…whew! CORRECTION – With OS3.0 iTunes on the iPod/iPhone allows you to search for podcasts such as Marketplace and there's no need to download them before listening. So this app is mostly just a proof of concept.
With my awesome new RSS podcast feed application Marketplace podcasts are now directly accessible from my Touch using a web browser and a Wifi connection. Here's how it works and looks:
[step 1] Open a browser on your iPod or iPhone and navigate to geneomatic.com/m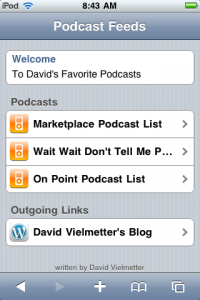 NOTE: You can create a bookmark for this menu in the form of an app icon that'll show on the iPod Touch home screen (optional).
[step 2] Pick your favorite Podcast (more coming soon) in either list or detailed view.
[step 3] Listen.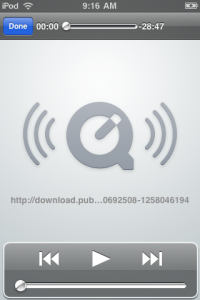 An article explaining how I did it (with source)…coming soon click here.