Part of my job involves giving lots of presentations. In order to be able to focus on my audience during proposals or training sessions a presentation remote is key. It allows me to advance through or go back to specific slides at key moments during my presentation. I can talk without being distracted by my computer and keep my eyes on the audience. Now that both my computer and cell phone have Bluetooth technology built in, my Sony W580i has become my new presentation remote. Here's how to use your cell phone as a presentation remote.
This article will walk you through getting your cell phone working as a presentation remote in Windows XP (VISTA and 7 coming soon). Once setup, your cell phone can be used as a mouse device that'll work a number of different presentation programs such as Microsoft Powerpoint or Adobe Reader.
[step 1] Open your systems control panel and locate the bluetooth icon. Double click it and under options ensure that the "Show the bluetooth icon in the notification area" is checked. Click Apply and Ok.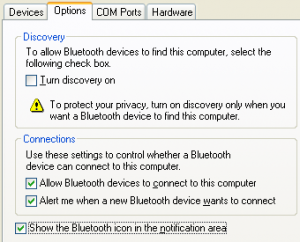 NOTE: If you don't have bluetooth installed on you notebook, you can pick up a USB bluetooth adapter for less than $10 bucks
[step 2] Now you should see the bluetooth status icon in your taskbar. Right-click this icon and select "Add a Bluetooth Device."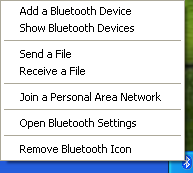 [step 3] A wizard will come up on the screen that will guide you through the steps needed to add your bluetooth device. Now make sure that your cell phone is turned on and bluetooth is enabled. On some phone models you may need to put you phone in bluetooth discovery mode for this step. Once you've enabled bluetooth on you cell phone tick the "My device is setup and ready to be found" check box and click next.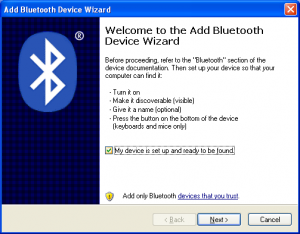 [step 4] The wizard will search for a while and hopefully display your cell phone device after a few seconds. If it does not, you may need to re-enter bluetooth discovery mode on your cell phone and click "Search Again." To continue, click next.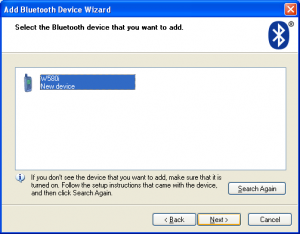 [step 5] To pair your computer with your cell phone we'll need to specify a key. We can choose any 4 digit (for most phones) key here, but to keep it simple I'll use 1234. You'll need to enter this code into you cell phone as well when prompted. Click next.
[step 6] Once you click next, your phone will prompt you to enter that 4 digit code (1234) we chose in the previous step.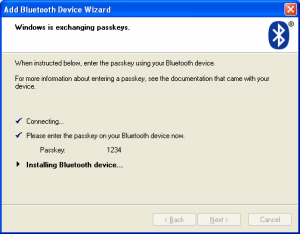 Once confirmed the bluetooth device pairing is complete and you can click Finish to exit the wizard.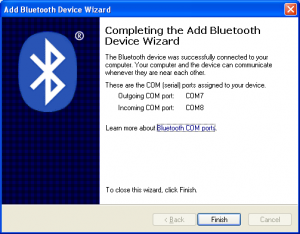 To verify that your device is installed, simply double click the bluetooth icon. Your cell phone should be listed in the devices tab.

[step 7] Now on your cell phone you'll need to fire up your remote control application, tool, or applet (most bluetooth enabled cell phones have one somewhere in the menu) and Powerpoint to start your presentation.
That's it.