A few months ago I noticed that my brand new Macbook Pro had developed some permanent stains on the palm rest. A trip to the Apple store "genius bar" ended in a 45 minute wait session followed by an interrogation about my palm moisture levels. Finally I felt I needed to make the following concession: "I admit it. I get sweaty palms on occasion." Unfortunately, however, no suggestions on how to remove the stubborn stains ever emerged from the meeting. Here's how I finally got rid of them…on my own!. Oh, and I want to go on record saying that having sweaty palms sucks enough without having an apple "genius" tell you that it's also corroding your metal Macbook Pro's unibody!
Items needed: A magic eraser, some car polish
[step 1] Get a magic eraser and moisten it slightly. Be careful to to make it too wet.
[step 2] In a circular motion rub the stain with the magic eraser being careful not to get any moisture on the trackpad or into the keyboard.
[step 3] Add some car polishing compound to a cloth and rub it in circles over the stain area. Let dry, then buff away any polish with a soft cloth and repeat if necessary.
Here's the palm rest before: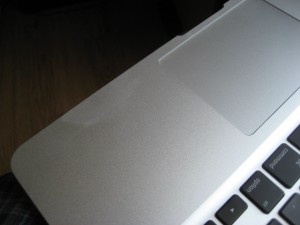 Here's the palm rest after: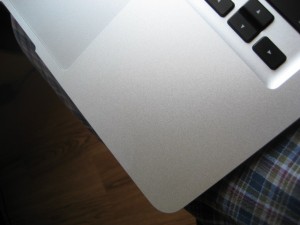 If you look closely the stain is still barely visible under a bright light, but it is much less noticeable than before.