Hosted email services are a good deal for small to midsize businesses. There's no hardware or software to buy, services are guaranteed to be available in the cloud, security is always up-to-date and the latest features are built-in. These days the two biggest competitors in this arena are Google Apps and Microsoft Office 365. When Google dropped its Apps Standard (or free) plan in December 2012 and replaced it with the $5/user/month Business version, Microsoft saw the opportunity to price its own competing product to match. Since then, Microsoft has been busy improving its Office365 service while Google has kept Google Apps mostly unchanged. Here is a comparison between the two products:
Google Apps for Business – $5/user/month (source)
Unlimited users
30GB of combined mailbox and Google Drive storage per user
Built-in SPAM protection
Syncs mail, contacts, calendars and reminders to mobile devices
24/7 support (if you purchase through Google – not a reseller)
99.9% SLA
Instant messaging and video chat with Google Talk
Edit and share documents using Google Docs
Manage users and policies with Administrative Controls
Office365 Small Business – $5/user/month (source)
Up to 300 users
50GB of mailbox storage per user
1TB of OneDrive storage per user
Syncs mail, contacts, calendars, reminders and notes to mobile devices
Built-in SPAM protection
24/7 support
99.9% SLA
Instant Messaging, voice calls, HD video chat and screen sharing with LYNC
Edit and share documents using Office Web Apps
Manage users and policies with Administrative Controls
Public Website and Intranet site using Sharepoint
Use the Office365 mobile app on IOS or Android
So, if your business has less than 25 users and you deal mostly in docx, xlsx and pptx files, Microsoft has more to offer. On the other hand, the built-in anti-SPAM measures offered with Office365 aren't quite as good as what comes with Google Apps and Google does allow your users to modify and create documents in the Microsoft standard. In the end each business must make the decision on which product to go with themselves, but I have found that for most businesses I deal with Office365 makes more sense for the following reasons:
Workforce users are already familiar with Office products – so using web apps requires no additional training. Existing installations of Office 2007 and higher work seamlessly with Office365.
Office365 ActiveSync allows users to flag mail items for follow up on their mobile devices. Additionally Office365 syncs Notes to mobile devices.
Instant Messaging using LYNC is easier than using Google Talk because users can use either a physical IM client or a free App designed for IM, voice and video chat. Google offers no native Apps or clients for IM and only the Google Hangouts App for video chat.
Sharepoint gives users the ability to easily create web based collaboration spaces where they can share documents securely, manage dates and project timelines and even create forms.
If you're re-evaluating a move of your productivity software to the cloud and want to know what's involved with a typical migration to Office 365, then this article is for you? For most small businesses the migration procedure falls into one of two categories:
Email is currently being handled by an on-premise Microsoft Exchange server. Users sync email using ActiveSync or Outlook.
Email is being handled by a hosting company, personal free accounts from a provider or an on-site Unix/Linux server. Users download email using POP3 or sync email using IMAP.
Regardless of which of these categories you fall into, you can migrate to Office365. If you've got an on-premise Exchange server and it is Exchange 2003 or later, one way to migrate is using a Cutover Migration. A cutover migration will copy all of your Exchange accounts, distribution groups, contacts and mailboxes from your on-premise Exchange server to an Office365 account. This procedure can be complex, requires a high speed internet connection and will tax the CPU on your exchange server during the sync cycles. The benefit of a cutover migration is that you don't have to create accounts for each of your users in Office365 or import their mailbox data from a PST file. The downside is that a cutover migration will create Office365 accounts for all your on-premise exchange mailboxes…this includes those guest user, resource and test accounts you may have created. You'll have to manually delete those accounts from Office365 after the migration is complete or spend some time cleaning up Active Directory before the migration.
I've written a pro tips article about a cutover migration for Exchange 2003->Office365 here. The linked article was written for a now dated version of Office365 so the screen shots aren't accurate anymore, but procedure hasn't changed.
If your email is being hosted at a provider like your ISP, Gmail, Yahoo or Hotmail and your employees currently sync mail onto their devices/computers using IMAP, then the migration procedure should be relatively simple. Because of the way IMAP works, all existing user email should already be stored in the cloud with the existing provider and will simply need to be downloaded to Office365. The procedure in this case consists of creating an Office365 account for each user and then configuring each user account to download existing email from the provider into Office365. Office365 offers built-in functionality that lets you import mail from any POP3 capable provider.
If your email is being hosted at a provider like your ISP and your users currently download email to their computers using POP3, chances are there won't be much of their existing email in the cloud. This is due to the nature of how POP3 works. When using POP3, email is typically downloaded from the provider and only exists on local devices. In this scenario, the procedure for migration involves creating an Office365 account for users and linking it to Microsoft Outlook 2007 or later. Then existing email, contacts and calendar data would have to be exported to a PST file and imported to an Outlook OST file linked to Office365.
I'll cover each of these scenarios in more detail in a bit, for now here is what you'll need to get started with your Office365 migration:
Access to registry that you purchased your domain name with (think Godaddy, Network Solutions, etc.) and the ability to modify and create DNS records.
A credit card.
An understanding of DNS and DNS records.
[step 1] Sign-up for Office365 and create an account for your organization. You won't need to prove ownership of your domain for this step yet and I recommend that you create one administrator account within your Office365 account. I always name this administrative account Account Admin. Microsoft may give you a username that looks like this: [email protected] intially but you can change the domain portion of this email address once you've successfully added your domain to Office365.
[step 2] Verify domain ownership and add your company domain to Office365. To do this, log into the Administrative Dashboard of Office365 using your admin account credentials and then click Domains -> Add a Domain. NOTE: If you're starting from scratch and don't currently have a domain, you can purchase by clicking Purchase instead and save your self a few steps.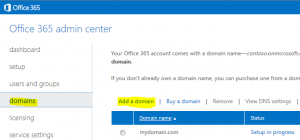 [step 3] Enter your domain name and then select Next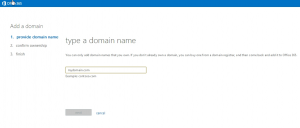 [step 4] Click Verify Ownership and select your registry from the drop down to view instructions on how to create a TXT dns record to verify domain ownership.
Basically the process involves getting signed into your domain registry account and creating a unique TXT DNS entry. Once Microsoft verifies that this entry exists it will confirm that you own the domain and allow you to add it to the account.
[step 5] Once verified and active, you're ready to start creating user accounts. To do this, click Users and Groups in the Office365 dashboard and then click + to add user accounts. IMPORTANT: Don't forget about email aliases! You can add as many email aliases to each licensed account as you like. Say for example your account [email protected] also received email from [email protected] and [email protected]…well you'll want to set that up in Office365 like this:
Create a user account for [email protected]
Once created, click more -> Edit Exchange properties->Email Addresses->+
Select the SMTP radio button and enter the email address you want to add to that account as an alias. Repeat as necessary for more aliases.
NOTE: although yourdomain.com is the default domain for new user accounts, yourdomain.onmicrosoft.com will remain as an option on the account forever. This is by design. Also, you can create more user accounts than you have purchased licenses for, but unlicensed accounts will not be able to receive email or use any of the Office365 features. I will typically remove the license from the Admin account since it is only used for administrative tasks and does not need to receive email.
[step 6] Once you've added all your users, you're ready to continue with the domain wizard. To do this click Domains and select your domain, then click the Setup in progress link to continue the domain setup wizard. You should see a check mark next to completed for verification and user setup. We are now ready to proceed with setting the domain purpose, so click Start step 1.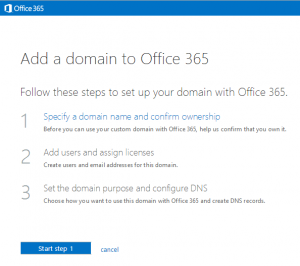 [step 7] Specify which services you want to use Office365 for. IMPORTANT: if you have an existing website you don't want to redo using SharePoint in Office365, you'll want to leave the SharePoint box unchecked at this step. You can add a separate domain for your Office365 SharePoint site at any time later. Click Next to see a screen with detailed instructions on how to change your MX records and create the necessary DNS records for Office365 to work.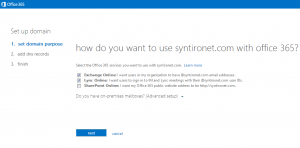 [step 7] At this point in time, it's a good idea to do one final check to make sure you have created all email accounts, aliases and distribution groups for your organization in Office365. If you've missed one, then emails that used to go to that address will bounce once we cut over the MX records. The screen you should have in front of you now will tell you what DNS records you'll need to create at your domain registry's DNS manager. Making these changes will tell the Internet that Office365 is now in charge of receiving email for yourdomain.com.
Pro Tip: For best email continuity results, I find that it's best to create all DNS records Office365 needs EXCEPT changing the MX record and then wait 24 hours. This allows you to confirm that accessing the Office365 accounts you created using Outlook, Outlook Web App or any mobile devices works as expected. Once you have confirmed that users can successfully log into Office365 from their respective devices, you can cut over the MX records. This way you avoid the situation where your MX records have been cut over and email is flowing to Office365, but users are unable to utilize their mobile devices or Microsoft Outlook to sync to Office365 because the autodiscover DNS records necessary for this to happen haven't propagated yet.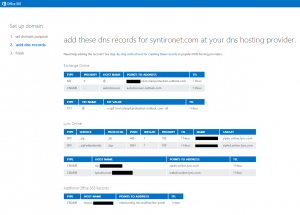 Update: If you're migrating to Office 365 and your domain is hosted at Godaddy, the migration process of creating DNS entries is now completely automated. Simply provide your Godaddy credentials in the office 365 domain wizard and it'll automatically create all entries for you. Remember that your MX records will be cut over when you use the wizard, so keep that in mind.
Here are detailed instructions for some of the more popular Domain Registries:
NOTE: Once you've made the DNS changes at your registry, it may take anywhere from a few minutes to few hours for Microsoft to see the changes. So if you click Done, go check and Office365 doesn't see your DNS changes yet, don't worry. Office365 will start processing incoming email as soon as the MX record cuts over…even if this screen is not verified. You can test this by sending an email from a personal gmail or hotmail account to one of your Office365 addresses and using Outlook Web App to check for that test message.
[step 8] Now that new email messages are flowing to Office365, it's time to import existing email for users. This can be done several ways:
If users were using Microsoft Outlook to connect to the old email, the easiest thing to do is to Export the entire mailbox including mail, calendar, contacts and notes to a PST file, create the Office365 profile with an OST file and then import the PST into the OST. Here is my procedure for this:

In Microsoft Outlook (make sure the users old mail, contacts and calendar are shown), click File->Open & Export->Import/Export. Select Export to a File and click Next. 
Select Outlook Data File (.pst) and click Next.
Select The entire mailbox at the very top of the list and be sure to check the Include subfolders check box.
Specify the location and name of the PST file. I typically choose c:backupbackup.pst. Click Next. Do not enter a password to encrypt the file and click Finish.
When the export is complete, close Microsoft Outlook.
Open Control Panel->Mail.
Click Show Profiles, then click Add and specify a name for the new office365 MAPI profile, then click OK.
Fill out the required fields and click Next. NOTE: if you only see two fields in this view and the name is greyed out (because your organization had an on-site exchange server at some point) simply click into the email field and re-type the email address. You'll now have the ability to modify the name and enter the password.
When the wizard finishes, be sure to set the new profile as the default so that when Outlook opens, the new profile is loaded.
Open Microsoft Outlook. Wait until the initial setup of your mailbox is complete and Outlook shows All folders are up to date and Connected to Microsoft Exchange in the status bar.
NOTE: you will be prompted for a password the first 2 times you open Outlook with a profile connected to Office365. Both times, be sure to enter your email address as the user name and your Office365 password as the password and check the Remember password box.
Click File->Open & Export->Import/Export. Select Import from another program or file and click Next. 
Select Outlook Data File (.pst) and click Next.
Specify the location of the previously exported backup.pst file.
Select the folder at the very top of the list and check the Include subfolders box. Select the Import items into the same folder in: radio button and be sure that your email address is shown in the drop down. Then click Finish.
You should now have all of the data from your old Outlook profile in your new Office365 profile. Depending on the size of the PST you imported and the speed of your Internet connection, it may take several hours to upload the imported data to Office365. While Outlook is doing this, it may fail show you new incoming messages, so to be sure you're getting new email messages, you may want to open Outlook Web App in a browser until your mailbox is completely synced between Outlook and Office365.

If users are accessing their mail using web based mail clients like Gmail, Google Apps Gmail, Yahoo, AOL or an IMAP client, then the easiest way to import their existing email is using Outlook Web App. To do this follow these steps:

Log into Office365 Outlook Web App at http://outlook.office365.com
At the top left hand side of your screen, click the gear next to your name, then click Options.
Click Accounts->Connected Accounts->+ to connect to an external account.Enter your email address and Password for your IMAP or POP3 account into the fields provided and click Next.
NOTE: You will need the IMAP/POP3 server and username/password information for this account.

Outlook Web App will try to determine the POP3 or IMAP server automatically, however I've seen auto-detection fail in most instances. After a while of trying you'll see the following error message:
Click OK to the warning and then click the link to manually setup your POP3 or IMAP connection to your linked account. In the screenshots below I am creating an IMAP connection. Specify the Name, Email and Password then click on Server Information.
Enter the Fully Qualified Domain Name (FQDN) of your IMAP server, the port number, Authentication and Encryption type and select Save.
If everything goes well, Outlook Web App will automatically download the entire contents of your IMAP mailbox in the background. There's nothing further you need to do to obtain your old email. Navigate back to Accounts->Connected Accounts to check on the status of your connected account. Office365 will periodically check your linked accounts for new mail and messages should start appearing in your Office365 inbox.
[Troubleshooting]
One of the most common issues I see is that Microsoft Outlook 2007+ will not connect to Office365 because of the existence of a previous on-site exchange server. When attempting to create the MAPI profile, you are not permitted to enter the user's password and the name is chosen from the logged on user and greyed out.

To resolve this issue, simply make a small change and then undo it in the email address (for example add a space to the end and then delete it). Now you'll be able to modify the name, email and enter a password for the user and Outlook will attempt to locate the autodiscover record to obtain the exchange server details needed to complete the MAPI profile setup.
Your computer cannot find the autodiscover DNS record for Office365. Therefore the MAPI profile setup wizard errors out stating it cannot locate the exchange server.

If you've just recently created the DNS records, try clicking Start->All Programs->Accessories->Command Prompt and type:
ipconfig /flushdns
then hit enter. This will tell your system to get the most recent updates from the DNS root server and will hopefully fix your issue. If that does not resolve your issue, try setting one of your systems DNS servers to 4.2.2.2 temporarily and perform an nslookup on autodiscover.yourdomain.com.
If all else fails, you can try to manually setup your systems MAPI connection.
Within Office365 Outlook Web App you receive an error when trying to sign into IM. The error states "There's a problem with IM. Please try again later. If the problem continues, contact your helpdesk."

To resolve this issue, you must run the exchange connectivity analyzer and check to make sure you have all the appropriate DNS records for LYNC configured:

Unless this test is successful, IM in Outlook Web App will not work.

If you're migrating from an on-premise exchange environment to office 365 users may get delivery failures on interoffice/interdomain emails sent via Microsoft Outlook using auto-complete entries. That's because these auto-complete entries may have x500 addresses specific to the on-premise exchange server and once migrated over to Office365 will no longer function but will still exist. Their sole purpose is to allow users to have Microsoft Outlook "autocomplete" email addresses as they are typed into the To: field. In Outlook 2010 and higher, these autocomplete entries are stored on the server and cached to the local workstation and they will be part of a full PST export. So if you're performing a user centric migration and want to allow users to keep their autocomplete entries, you'll need to remove the interdomain entries from their autocomplete cache. This can be done using a utility named NK2EDIT (from sysinternals).

Sample failed delivery email users may receive:


Microsoft Outlook autocomplete example:


Running NK2EDIT on a machine with an Office365 MAPI profile where the PST of an existing on-premise exchange user has already been imported:

NOTE: the yellow highlighted entries may not work because they contain exchange information pointing to the old on-premise exchange server so those entries may need to be deleted.