Sharing your windows printer for use on the iPhone and iPad was originally made possible by elpamsoft.com. ElpamSoft's free tool named Windows Airprint Installer could install the airprint executable, dll's and service that work in conjunction with iTunes and the Bonjour service to make Windows printers available to IOS devices. The problem is that tool no longer works with IOS5. Even the now modified instructions at JAXOV.com for creating a windows AirPrint service no longer allow IOS5 devices to print. iPhones and iPads running IOS5 can see printers, but they appear locked and cannot be selected.
UPDATE: The instructions below no longer work. Elpamsoft.com has announced that the Windows Airprint Installer tool will install an Airprint service that is incompatible with IOS5 devices. There is no indication that a patched new tool is forthcoming. 
[what you'll need]
A windows PC that's always on or has wake-on-wifi/lan support.
A printer with drivers installed connected directly or wirelessly to the PC
iTunes
[step 1] On your Windows PC, test your printer by printing any page. Then share it by right-clicking it and checking the share this printer boxes in the sharing tab.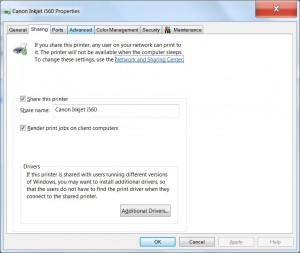 [step 2] Install iTunes.
[step 3] Download the Windows AirPrint Installer and extract the contents to any folder on your computer.
File Name :       Windows-AirPrint-Installer-iOS-5-for-x86-x64.zip
MD5 :       151e15fc884ea6b5c8e641fc01a20fd4

[step 4] Double-click Airprint-Installer.exe to launch the program. Click Install AirPrint Service.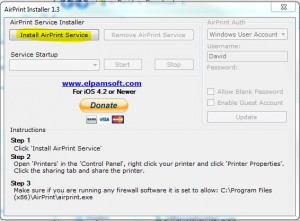 [step 5] Enable the Guest Account, then click update and restart the AirPrint Service or your computer.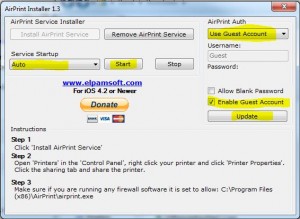 [step 6] Try printing a page from your iPad/iPod/iPhone device. Your new shared printer should now get auto-detected in the iOS select a printer dialog.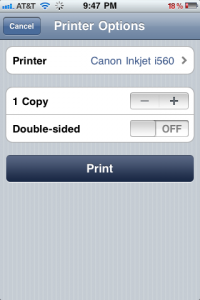 Troubleshooting: Printing will only work in IOS 4.3 and lower. IOS5 is no longer supported by the AirPrint Service for Windows.
If you're looking for printing from IOS 5 devices, please see my article about FingerPrint (a $10 windows app for sharing a windows printer with IOS5 devices).