Say you're building a new Terminal Server with Windows 2008 R2 x64 Remote Desktop Services for your mobile sales people to use. Maybe they want to use Outlook 2010 on this Terminal Server and be able to add emails from Outlook to Salesforce. Well they CAN'T! For some stupid reason the Salesforce for Outlook add-in works perfectly fine on Windows 7 x64, but does not install on Windows 2008 R2 Server x64.
[problem]
When trying to install the Salesforce for Outlook add-in on Windows 2008R2 Server the following error is observed: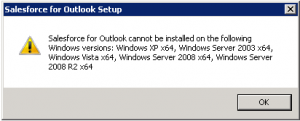 Support on the issue is non-existent. Calling Salesforce tech support yields the urge to shoot oneself in the face.
[solution]
Modify the MSI installer such that it doesn't check the operating system version during the install. Here's how:
NOTE: The credit for this solution goes to Keene Maverick who first discovered this workaround.
[step 1] Download the MSI installer zip file for the add-in from salesforce.com. You'll need to log into salesforce.com, then click your name->Setup->Desktop Integration->Salesforce for Outlook. Extract the two MSI files in the zip file to your Desktop or a folder.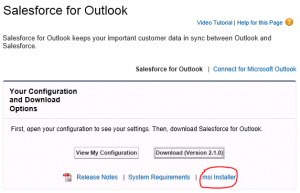 [step 2] Download and install a trial version of InstEd.
[step 3] Download DisableOSCheck.zip MST patch file and extract it to the same directory as your MSI installers in [step 1].
[step 4] Open InstEd and from within InstEd click File->Open and select the SalesforceForOutlook.msi file.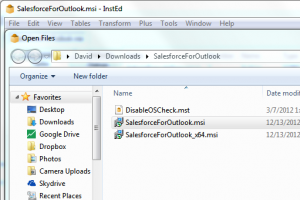 NOTE: Only select the SalesforceForOutlook_x64.msi if you are running the 64bit version of Microsoft Office, otherwise you'll wan the 32bit version of the MSI file.
[step 5] Click Transform->Apply Transform… and select the DisableOSCheck.mst file.
[step 6] Click Transform->Save Transformed. Select an output directory and specify a file name.
That's it.
You can now install the transformed new MSI package you created on Windows 2008 R2 Server and each user will be able to use Outlook with the Salesforce for Outlook addin.
-UPDATE-
Some users have been saying that some of the links in this article are dead, so I'm posting my fixed version of the Add-in for Salesforce (2.1.0) here. I make no guarantees about this software's reliability.
-UPDATE-
The new version of the add-in v2.4.2 appears to have some of the same restrictions as the older versions. I haven't applied the new version to my environment. For those who want to try installing it themselves and report back, here's how:
[step 1] download the msi installer from Salesforce by clicking <your name> at the top right of the browser screen once logged in. Then click Setup->Desktop Integration->Salesforce for Outlook->.msi installer. This should download a zip file named SalesforceForOutlook.zip to your computer. Extract both to a folder of your choice.
[step 2] download/install/use InstEd to open the appropriate MSI file (x86 or x64) from within InstEd.
[step 3] in InstEd, scroll down in the columns on the left to Launch Condition and remove and highlight all items, then delete all rows. Now Click File->Save.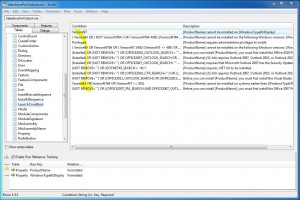 [step 4] Install the saved MSI as usual.