If you're a sysadmin like me, you'll have multiple RDP sessions to multiple servers open a the same time on occasion. They tend to look alike if you keep things standardized and this can introduce the risk of human error when it comes to maintenance. If all RDP sessions look the same, it can be easy to restart the wrong service on the wrong server. To avoid this, I've used BgInfo for years. It's free to download and was designed to gather system information and displays it on the desktop background of a Windows server or workstation. It can be a helpful resource when remotely administering multiple servers. The software is an oldie but a goodie and in this tutorial, I'll be walking through the process of creating a Group Policy Object which pushes the BgInfo executable and settings file to all servers or workstations in an Organizational Unit.
Group Policy Details:
[download] the zip of BGinfo and all files showcased in this tutorial.
Shortcut Screenshot: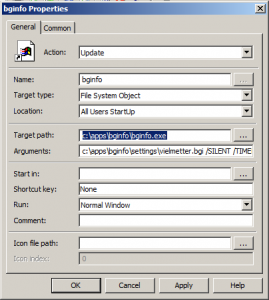 Target path for the shortcut: c:appsbginfobginfo.exe
Arguments for the shortcut: c:appsbginfosettingsvielmetter.bgi /SILENT /TIMER:0 /NOLICPROMPT
That's it.