This Christmas I splurged on a new Xbox 360. My existing one red ringed a while back and now needs a very loud intercooler to keep it from overheating. Soon after setting it up though, I found myself needing a way to transfer all of my game saves from the old to the new Xbox. A quick Google pointed to a special Xbox transfer cable I didn't have, so I had to use a 2gb flash drive I had lying around. Here's how I did it:
Items needed:
1 old Xbox 360
1 new Xbox 360
1 compatible flash drive (mine was a 2gb patriot)
patience
[step 1] Fire up the old Xbox with all of your game saves and profiles. I found placing the old and new Xboxes right next to each other worked out best, that way I could quickly switch the video cable back and fourth and just leave the TV plugged in and turned on.
[step 2] Insert the flash drive into the front USB port. Then on your console, go to My Xbox->System Settings->Memory->Storage Devices and select the USB Storage Device. Select the device and choose configure now and confirm that you understand all information will be erased.
[step 3] Now select the hard drive from your storage devices screen.
[step 4] Then press the "Y" button to Transfer content (such as game saves and profiles). NOTE: Content will be MOVED, not COPIED! So try not to remove your flash drive or shutdown your console before the operation is complete.
[step 5] Select a destination device (your flash drive).
[step 5] Depending on how large your flash drive is, you'll be able to add more/less game saves to your flash drive by selecting Games and checking/un-checking them individually. This step may need to be repeated if your flash drive capacity is small.
[step 6] When your flash drive is just about full you're ready to start the transfer by pressing "B" to go back and then "START" begin your transfer. After it is complete, simply turn off your old Xbox 360 and remove the flash drive.
[step 7] Fire up your new Xbox 360 and insert the flash drive. Navigate to My Xbox->System Settings->Memory->Flash Drive. Then press "Y" to transfer content.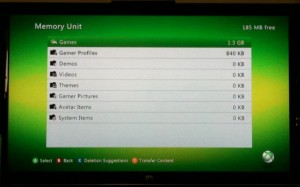 [step 8] Select a destination device (your hard drive).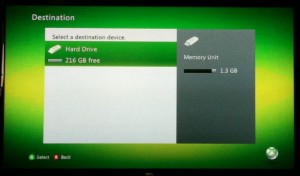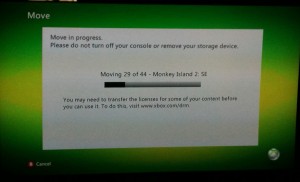 Now that all of your game saves and profiles have been recovered, you'll still need to recover your gamertag before you can sign into Xbox Live with your moved profile. Here's how:
[step 1] Press the "X" button on your controller.
[step 2] Select the option to recover gamertag, enter your email and cross your fingers.
That's it. Enjoy.