If you use WordPress, you're probably familiar with the admin interface's widgets tool. It a super easy user interface (UI) that allows users enable/disable elements by dragging them into a designated area. Gravity Forms has ingeniously utilized this concept to allow users create web based forms by dragging and dropping fields. But wait! There's more. Since WordPress runs on PHP and MySQL, form processing and data tracking is included with your form. Mind = Blown!
After playing with the Forms demo for about 20 minutes creating my own forms (you can't save 'em in the demo though) and previewing samples, I was convinced that Gravity Forms has potential. The product is still under heavy development and cool new features are being added all the time. Overall, however, I think $39 bucks per site is just in my price range and offers enough bang for the buck with a year of free upgrades.
Here's a screen-shot of editing one of the sample forms. Want to let the user enter an address? Just drag 'n drop the address widget…Boom!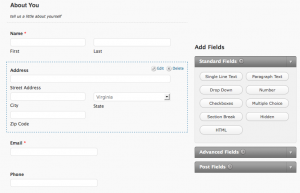 I think I'll wait a couple of months before making my purchase, but I'll update this post once I my new gravity forms have been installed.