I've been fine tuning my ShowAnalyzer settings for a while now and think I've gotten them pretty close to ideal. ShowAnalyzer is the software I use to batch analyze DVR recordings and mark ad segments within so that SageTV can automatically skip them during playback. It has a built in tool for fine tuning called SchoolHouse which allows you to see how ShowAnalyzer uses settings to identify ads and commercials. Using this tool, I've determined the optimum values to skip ads perfectly.
Here are the custom profile setting values I use with ShowAnalyzer 0.97:
Length Limits
LPCS      400
LPIC      180
SPCS      44.5
SPSS      35.5
Score Modifiers
AR        3
CC        1.5
EP+       0.1
EP-       3
EP?       1
LHP       2
LHPC      1.5
LLP       1
LMP       1.5
LMPC      1
LTL       0.1
LTS       1
Thresholds
CTST      15
STCT      10
Border
BOTTOM    8
LEFT      8    
RIGHT     8
TOP       8
Commercial Padding
BEG       0
END       0
Predetermined marks
all       0
When you're not using the default profile in ShowAnalyzer, you must specify your profile and which files to use it on in Autosettings.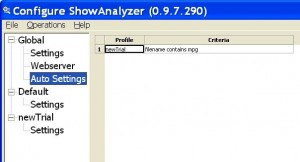 Finally these are my global show analyzer settings. They keep ShowAnalyzer hidden in the background while it generates the right commercial skip files SageTV can recognize.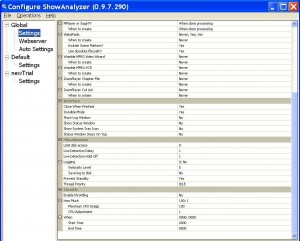 All of this yields the following beautiful result: Highlighted commercial segments in my show time line and auto-skipping of ads during playback.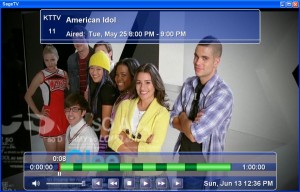 Hope this helps someone.
–UPDATE 12/16/13–
Settings files for version 0.97 from my backups. I now use Comskip.