According to FCC Sec 76.630 and CFR Title 47, Sec 76.901(a), a cable provider who chooses to "rebroadcast" local Over-the-Air ("OTA") channels, must do so in what is known as clear QAM. Clear QAM is still an encrypted signal, but a newer television set with an ATSC tuner will be able to decrypt and display it without a "cable box" from your subscriber.
Time Warner Cable follows this regulation, but they have figured out a way to discourage people from going without the "cable box" by moving their re-broadcast OTA HD channels around periodically. So if you've got a TV with a standard ATSC tuner hooked up directly to a Time Warner COAX cable, your local HD channels (i.e. SoCal 2.1, 4.1, 5.1, 7.1, 9.1, 11.1, 13.1 etc.) will stop working at some point. When this happens and you call Time Warner cable support, you'll be told that you "need to rent an HD set-top box or DVR" for $5-$10/month to get those channels back.
In fact, this is a lie. All they have done is scrambled the re-broadcast channels such that they no longer match up with your TV's original auto-programming or auto-tuning procedure. All you'll need to do is go to the cable settings on your TV and perform another channel scan/auto-program/auto-tune procedure and you'll get the channels back without a "set-top HD box or DVR".
If you use a Silicon Dust HDHR digital tuner and capture device, those channels the cable company moved around won't record the shows you may have scheduled to record anymore. Recording content on stations or channels that were moved by the cable company will require you to perform a new channel scan using the configuration utility. Otherwise the HDHR device will record an hour of blank screen or give you a failure to capture notice (in SageTV).
Although performing a channel scan within the Silicon Dust HDHR utility is straight forward(see screen shot below),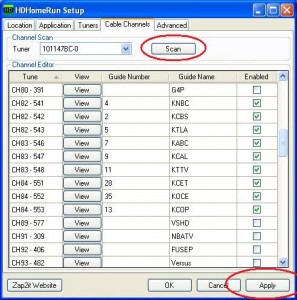 the real issue is that you won't necessarily know when or how often it will need to be done. Really our only indication is some failed recordings on a channel that we know to be working previously. Unfortunately by that time it's usually too late to perform a channel scan. So if anyone has advance knowledge of when Time Warner will be moving OTA HD channels and can provide an update or schedule of when this will happen, I'd greatly appreciate it and I'll gladly post it as well.
UPDATE: I know that recently (as in Sept. 29th or so), Time Warner Cable moved channel 7-1 and a few others.
UPDATE: Time Warner scrambled the OTA HD Channels again on or around 7/18/12.