Lets say, hypothetically speaking, that you've got this domain (geneomatic.com). Furthermore, lets say that you were doing some SEO experiments with a blog using said domain…you know,  just for fun. In this particular blog, lets say you wanted to make your own name synonymous with the domain name just to test your Google SEO skills. Then, hypothetically speaking of course, let's say you discover that maybe the domain name really brings no significant meaning to your name and you'd rather have another domain name synonymous with your name instead (davidvielmetter.com)…because it makes way more sense. Well, if you found yourself in that particular situation, then hypothetically speaking of course you'd have to change your domain name. Here's how to do it.
[step 1] Check with your current domain's hosting company to see if your web hosting package will allow you to add another domain. If not you might have to shell out more money.
[step 2] Register your new domain name using a domain name registry such as godaddy.com.
[step 3] Find out and note what your hosting companies nameserver names (i.e. NS1.YOURDOMAIN.COM NS2.YOURDOMAIN.COM). Sometimes they can be found in your hosting control panel or CPANEL, or if you have your original domain name registered with Godaddy you can look them up there.
[step 4] Log into Godaddy.com and for your newly registered domain, change the nameservers to the ones you noted in step 3.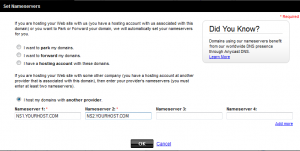 [step 5] Now that you've set nameservers pointing to your new domain to your hosting company, we'll actually need to setup the website you'd like to display on your domain name at said hosting company. To do this log into your hosting providers control panel or CPANEL and navigate over to the "Addon" domain section and add your newly registered domain to your account.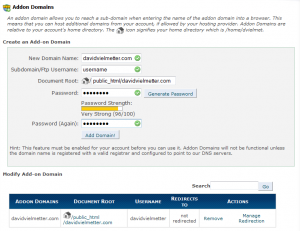 [step 6] Now you'll need to copy all your blog files (the entire WordPress directory) from the previous domain's directory to the new domain's root or sub-directory of your choice. You can do this using an FTP program or the file manager within your CPANEL. I highly recommend using your hosting companies file manager as it will copy locally and thus me much faster.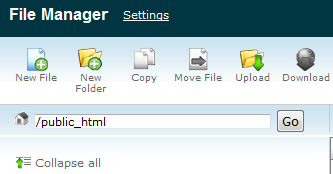 [step 7] Now that your blog (WordPress) files have been copied to your new domain's root directory, you'll need to edit some configuration parameters. If you are using the same database and database connection your old blog you might only have to change the WordPress URL and address.
[step 8] Now it's time to test your new blog to make sure it works in its new location at http://yourdomain.com. If everything works fine, it's time to redirect web traffic from your old domain to your new one. Typically you can do this in your hosting providers CPANEL by clicking "redirect." Be sure to create a "permanent" redirect, otherwise Google will not understand that your blog has moved. Also you may want to consider a using a wild card redirect. This will redirect any URL that used to point to the old domain to the new one, but be careful with the wild card redirect…if you're still using your old domain for other sub sites it may redirect them too.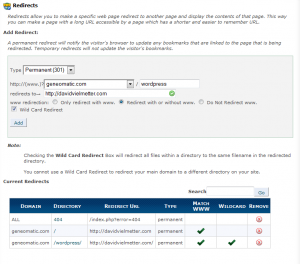 That's all, you're now done migrating your WordPress blog to a newly registered domain name.
Your content, however will still contain references to your old blog domain. To modify all content on your blog (image links and internal links will still have the old blog URL in them). This is fine as long as you have that active re-direct, but eventually you'll want to change the links. The Velvet Blue Update URLs plugin for wordpress can help with that. Here's how:
[step 1] Backup your Blog Database.
[step 2] Enter your old blog URL (in my case it was http://geneomatic.com/wordpress) into the old url field and the new blog address (https://davidvielmetter.com) into the new URL field, then click update URLs: